Leon Kitchen

8th November 1927

2nd December 2020



The front page of the Order of Service is shown above. Some extracts are shown in italics below.


Gresford - The miners' hymn
This is dedicated to Leon's grandfathers and uncles who were miners. It is also dedicated to the people affected by the Gresford tragedy and a s a comment about the power of rich organisations on ordinary people's lives.

Gresford performed by the Easington Brass Band (includes Blaydon Races)

Gresford performed by the Black Dyke Band

KEVIN
We are only a small group of people gathered here today which does not reflect Leon's reach nor does it reflect the true number of people who would wish to be here with us to celebrate his life.

All the music, readings and some of the words we will hear today were chosen and written out by Leon a couple of years ago as he prepared for the end of his life. The explanations about the music that we will share with you were also provided by him. It is indicative of Leon's passionate beliefs about equality and rights that he has, in part, mapped his life and this service against major social and political events.

As we came in, we heard Gresford played by Easington Brass Band [note about link]. Leon chose this music to commemorate his two grandfathers and an uncle who were miners and an uncle who was an electrician in the mine - all in the South Yorkshire coalfields. He also chose it in memory of the terrible mining disaster in 1934 at Gresford Colliery about which there was so much controversy. This choice reflects Leon's passionate defence of poorer working people against injustice meted out by the rich and wealthy organisations. He also said that it was in memory of the Durham Miners Gala and the attendance at it of Tony Benn and the Labour leaders of the time.

NICK

1930s: Despite the depression of the 1930s, with his mother, father and sister June, Leon said that he had a very happy, warm and cosy life enhanced by extended family in the urban village of Hoyland Common in South Yorkshire. His life outside of school was centred on the local Methodist Chapel and also on two of his passions, Yorkshire cricket and Sheffield Wednesday nearby.

Dulce et Decorum Est by Wilfred Owen
This is dedicated to Leon's father who was gassed in the last battle of the First World W and to reflect his abhorrence of man's inhumanity to man.

KEVIN for Leon's father:
Dulce et Decorum Est, Wilfred Owen
Bent double, like old beggars under sacks,
Knock-kneed, coughing like hags, we cursed through sludge,
Till on the haunting flares we turned our backs
And towards our distant rest began to trudge.
Men marched asleep. Many had lost their boots
But limped on, blood-shod. All went lame; all blind;
Drunk with fatigue; deaf even to the hoots
Of tired, outstripped Five-Nines that dropped behind.

Gas! Gas! Quick, boys!—An ecstasy of fumbling,
Fitting the clumsy helmets just in time;
But someone still was yelling out and stumbling
And flound'ring like a man in fire or lime...
Dim, through the misty panes and thick green light,
As under a green sea, I saw him drowning.

In all my dreams, before my helpless sight,
He plunges at me, guttering, choking, drowning.

If in some smothering dreams you too could pace
Behind the wagon that we flung him in,
And watch the white eyes writhing in his face,
His hanging face, like a devil's sick of sin;
If you could hear, at every jolt, the blood
Come gargling from the froth-corrupted lungs,
Obscene as cancer, bitter as the cud
Of vile, incurable sores on innocent tongues,—
My friend, you would not tell with such high zest
To children ardent for some desperate glory,
The old Lie: Dulce et decorum est
Pro patria mori.
Deep Harmony
This hymn is dedicated to Leon's mother who was an organist at the Methodist chapel and who raised her family and ran a business as a single mother

NICK
Leon's Mother: Leon chose the hymn Deep Harmony in memory of his mother Doris. She was a Methodist chapel organist and LRAM licentiate of the Royal College of Music. She was the devoted single parent of Leon and his sister June after Norman's death and she also took over the running of the family yeast business. When the colliery brass band came around the streets, she always requested two verses of Deep Harmony. Later in his life Leon said that this was a signature tune of the Newcastle Male Chorus of which he was a proud member.

Deep Harmony Black Dyke Mills Band 1938

Sweet is the work, my God, my king,
To praise Thy name, give thanks and sing,
To show Thy love by morning light
And talk of all Thy truth at night.
Sweet is the day of sacred rest,
No mortal cares shall seize my breast.
O may my heart in tune be found,
Like David's harp of solemn sound!
Then shall I see, and hear, and know
All I desired and wished below;
And every power find sweet employ
In that eternal world of joy.

KEVIN
1939-45: The years 1939-45 were the most intense of Leon's life, spent at Ecclesfield Grammar School. It was at Ecclesfield that he made lifelong friends including Oller with whom he has been in regular touch until his very last week and his best mate Graham Higgins whom he had already known from junior school and with whom he was in close contact until Graham's death. At Graham's funeral, Leon was invited to speak and, without notes, he produced a tour de force eulogising with deep love and admiration about his lifelong friend. His talk was so moving that we all burst into spontaneous applause when he finished - much to the priest's consternation!

In 1941 came the Beveridge Report which in due course changed all our lives when in 1945 we had a Labour government that started our NHS.

1945-51: The six years from 1945–51 were taken up with university, military service and teacher training. Such was Leon's academic brilliance that in 1945 when he was 17, he went from a South Yorkshire mining village to Oxford to study PPE. Oxford was in some ways difficult for him and he was truly grateful for his friend Graham's presence there. His experience in Oxford when he was confronted by the wealth and entitlement of students from public schools perhaps sowed some of the seeds of his future socialism. Perhaps this is also why he was passionate about the iniquity of public schools being allowed to run at all, let alone to benefit from tax breaks. Leon was passionate about education and the right of all people to an equal education and he supported charities around the world that worked towards this.

KEVIN
1952-1966: After University, Leon's first job was at Soham Grammar School in Cambridgeshire teaching history from 1952 to 1957. Even within the last few months of his life Leon received cards and phone calls from former pupils who had clearly been inspired and influenced by him as a teacher. He has been described by many as "making history come alive".

This week a former student emailed to say how Leon had had a great influence on his life. "I remember the first day in our 4th year at Soham Grammar school he floated into the classroom gown billowing and deftly with one foot closed the desk lid of fellow pupil John Hill. It didn't hurt John his head was hard enough. I think he was imitating his football hero Stanley Matthews. He was often seen deftly dribbling along the corridors" ….

He then went on to teach politics and history at the City School in Lincoln from 1957 to 1966. He had been surprised by an advert in the Times Educational Supplement that specifically asked for a PPE graduate as this was unusual. These were the years when he and Barbara had Rachel and Mark. He was also leader of the Methodist Youth Club at the church for 3 years. To celebrate Leon's 90th birthday we went on a driving tour to some places associated with his earlier life including to Lincoln. This trip included a surprise party at this very Youth Club building. Such was Leon's ability to touch people's hearts and lives that some 50 years after he had left, around 20 past club members gathered to celebrate him. It was a moving reunion.

In both schools where Leon taught, he coached football and cricket teams – when Leon left Soham the head teacher said that he would be remembered for his devotion to Len and Stan - Len Hutton and Stanley Mathews. In fact, whilst at Soham we have recently heard that he turned out for Soham United on the left wing. It is also said that Leon had been a good enough cricketer to play for Yorkshire, but he always denied this.

The family then moved to Newcastle in 1966 because Leon secured a job at Northern Counties College of Education where he taught mainly history as part of the teacher training course and then when it became a part of Newcastle Polytechnic he taught on the History of Sports degree – one of his more famous pupils being Steve Cram.

NICK
About Barbara: We will now listen to a Mozart duet from The Magic Flute in celebration of Leon's love and admiration for Barbara. They were born on adjacent streets in Hoyland Common. They first met when they were 2 years old. The lovely story holds that Leon told his Mum and auntie at age 7 that he would marry Barbara Brooke to which they laughed.

They went to the same schools from age 3 to 18 including Ecclesfield Grammar School and also went to the same Sunday School. They married in 1954 and lived together for 66 years. Leon cherished Barbara's love and loyalty and her devotion to the family and her ability to look after people. He quoted some of the lyrics about love from the duet sung by Papageno and Pamina for us:

Mozart duet from The Magic Flute
Papageno and Pamina sing about the quality of live and this song is dedicated to Barbara and to his love and admiration for her.
Bei Männern welche Liebe fühlen


"In men who feel love,
a good heart, too, is never lacking."

"We want to enjoy love;
it is through love alone that we live".

"Love sweetens every sorrow";

"Its high purpose clearly proclaims:
there is nothing nobler than woman and man.
Man and woman, and woman and man,
reach towards the deity."
Barbara will talk about her life with Leon: tba

KEVIN
Labour Party: Leon put his beliefs about equality into action by starting to campaign with the Labour Party in 1966 and by joining it in 1967. In his words, the high point of his political career was on 1st May 1990 when Jim Heads won Dene ward for Labour for the first time!

Newcastle Male Chorus: On his retirement from teaching in 1987, Leon joined Newcastle Male Chorus and sang with them all around the country and abroad in concerts and competitions. Leon was librarian and editor of their magazine. Leon had hoped that the Chorus would sing Like a Bridge over Troubled Waters, and Troytes Chant from Under Milkwood at this service but of course this is not possible. We will nonetheless listen to a recording of Troytes Chant as we leave later.

As a person:
Would you all recognise how well read and knowledgeable Leon was?
And I am sure that you also know that he was continuously generous in his charitable giving to all sorts of different charities working with people all around the world.

All those who have reached out to us since Leon's death have reflected our own experience of Leon being a deeply principled, honourable, caring man with tremendous integrity. His views were always well thought out and backed by intelligent reasons rather than by cliched soundbites. He had a heartfelt interest in everyone he met and wanted to know about people and how they were getting on. One recent example of this is that as a patient of the NHS he was asking about the welfare of a nurse's son at university being genuinely interested and concerned about him.
He was very well informed and was an avid listener to political and sports broadcasts both on radio and on tv and he was a prolific reader right up to his last week. He followed football and cricket avidly and was a mine of information about both.

NICK
As a father: As a Dad, Leon was remarkable. Mark, regrettably, had to live away from the family home yet from when Mark was aged 6 to 52 Leon travelled every single week of the year come rain or shine, sometimes twice a week, by public transport to have trips out with his son. They walked around Prudhoe, Seaham and later Sunderland. When Mark was 52 he came to live in High Heaton which thankfully meant that the family could be united far more regularly. Still Leon went out for walks with carefully planned routes with Mark to take in shops and suitable refreshment stops every Saturday until his heart attack almost 4 years ago.
Rachel also experienced a deep and supportive relationship with her Dad. His unconditional love for her has been a corner stone of her life. Soon after his heart attack she wrote him a letter because she wanted him to know just how important he was to her. This is a precis of what was written….

Dearest Dad,
To say that I express my deepest gratitude to you for all you have done for me as a father feels so inadequate and somehow superficial. You have been my friend, my mentor, my inspiration and my life would not have been nearly as rich and happy without your continued presence.
From what you have said about your Dad it sounds as if you inherited many of your qualities from him - fairness, honesty, integrity, generosity, commitment, modesty and a deep concern for the welfare of others.
It's hard to know what it is that I will miss most about you when you're no longer in my life. I remember from a young age that you were always a very 'hands-on' father – well before anyone had heard of the concept of a 'new man'. Some of my fondest memories of my early years were going out on a Sunday morning with you & Mark around the parks – we must have experienced all the best swings that Lincoln had to offer.
During the first few years in Newcastle, you used to take me along to St James' Park where we'd stand in the Gallowgate and I can still recount all the players and their positions so this clearly had a big impact on me. The opportunity to go out and spend time with you was always so welcome even such simple pleasures like throwing and catching a ball against our back wall.
I was always keen to do well at school to make you proud – at sport and academically - and I so appreciated the interest you showed in my school work particularly 'O' level History where I certainly needed the input! It was significant that it was you who accompanied me to York University for the first time after my year 'off'. A gap year was much less common in those days and I'm forever grateful that you always encouraged me to follow my own interests and aspirations rather than do the same as everyone else.
After university I had those couple of years off to travel around the world for which again I have you & Mum to thank. You helped me to feel secure enough in myself to have the confidence to embark on such adventures and you encouraged me despite your fears and reservations (which I only heard of subsequently).
I was also inspired by our wonderful family holidays and what has brought so much pleasure in recent years is the fact that we three (with Nick's essential presence) have taken up the chance to have more foreign holidays together – there are not so many late 80-year olds who would be up for this challenge and this has been such a special opportunity to spend more quality time with you.
Like you, my experience of family life was one of happiness, security and contentment and you have been the most amazing father to both Mark and I. Neither of us have the words to express our love and admiration for you and our gratitude for your presence in our lives. We are so pleased, proud and privileged to have you as our Dad….
Leon in his turn was very ready to express his love & gratitude to his daughter saying to her "aren't we lucky Rach to have had 60 years together!" He was particularly appreciative of Rachel's presence close by him in the last year of his life and with Barbara she cared for him which enabled him to stay at home so that he could die peacefully at home as he hoped. It was however, a source of his greatest sadness that due to the Covid restrictions Leon was no longer able to see Mark regularly before he died.

KEVIN
Thank you for joining us to remember Leon and to celebrate his life with us.

We are sorry not to be able to invite you all for the usual drink and a bite to eat.

But Rachel has prepared some of Leon's favourite flapjack and if you feel that it is safe to do so, do please take a piece and eat it at home with a cup of tea and think of Leon.
We will leave as we listen to Troytes Chant sung by the London Welsh Male Voice Choir because Leon said "it is a beautiful way to end a concert or a service".
Rev Eli Jenkins Prayer (Troyte's Chant)
Every morning, when I wake,
Dear Lord, a little prayer I make,
O please to keep Thy loving eye
On all poor creatures born to die.
And every evening at sun-down
I ask a blessing on the town,
For whether we last the night or no
I'm sure is always touch-and-go.
We are not wholly bad or good
Who live our lives under Milk Wood,
And Thou, I know, wilt be the first
To see our best side, not our worst.
O let us see another day!
Bless us this holy night, I pray,
And to the sun we all will bow
And say goodbye - but just for now.
Dylan Thomas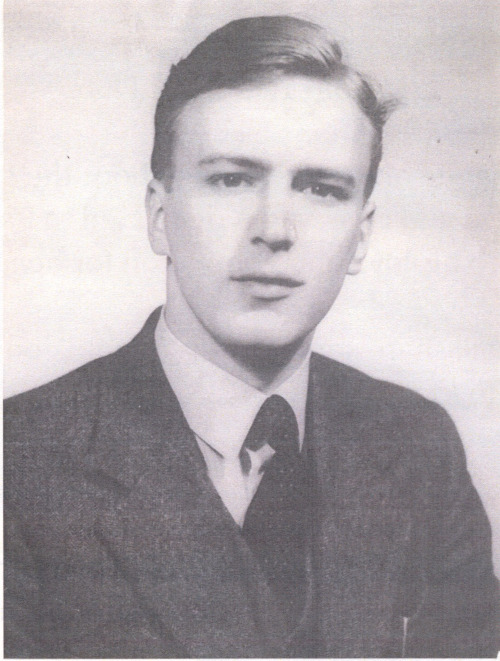 ---

Soham Grammarian Autumn 1951

We welcome Mr ACV Foster, Mr L Kitchen and Dr JS Turner, who take their places on the Staff.

---

Soham Grammarian Summer 1957

We are sorry to report that Mr Kitchen, Mr Jones and Mr Atkinson are leaving us this term; we wish them all happiness and success in the future.

VALETE - Mr Kitchen, who takes up a new post at The City School, Lincoln, next term, came to this school in 1951, when his pupils and colleagues soon discovered that here was one to whom teaching was a vocation to be pursued with unflagging zeal and earnestness.

Mr. Kitchen's unrelenting seriousness of purpose may at times have made him easy game for Magazine satirists among others, making sly digs about his chasing Sixth-formers down the drive at end of term with holiday homework or about his "night-shifts" with them in his house before A level; but it was always to be seen as a reflection of an intense love of his subject as the precious record of human aspirations and ideals.

Think of the resounding fervour of his speeches in the Freedom Service for Hungary or on United Nations occasions, and of how he has been able to build up Civics and the Discussion Group as explorations of the "eternal verities"; think, too, how he has made ordinary lessons illustrate his saying, "History is Chaps."

Matching this sincerity, which has made his morning services so memorable, has been the kindly wit and cheerful smile that seem so typically North Country. In the sports realm, Mr. Kitchen will be particularly remembered for his work with the Under-Fourteen teams and for his devotion to Stan and Len.


from the 1956 School photo


Mr Kitchen can be seen in many Reunion and School photos (do a search on Kitchen).



---

Peter Pryke SG52: Glad to know that Leon Kitchen is still going strong. A Yorkshireman, I think. He used to wear a beret. He was a super teacher, and a good soccer player. He took us for history and civics (tape recordings of Alistair Cooke's Letter From America). Even the thickest kids passed history.


He used to write headline notes on the board left-handed in a good hand. He could coax performance out of anybody - "what do you know about Henry the Eighth?" - silence - "Oh come on lad, tha must know sumthing".




If you can add further memories of Mr Kitchen or provide further photos of him, please contact the editor.
page created 1 Nov 07: last updated 15 Oct 21: 16 Mar 22