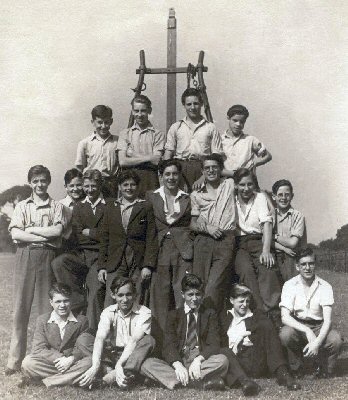 Brian Knott says this photo (provided and named by Len Reynolds) was also taken in 1948 , though it has only 17 of the class, but it includes the late Alban Nash who was not in the one above. It was taken in front of the cricket roller, which many will have vivid memories of pulling up and down the cricket square during their lunch period, often as a punishment.

L-R back: Alban Nash, Pete Cousins, Ron Fleet, Joe Smith
middle: Louis Heavens, Cyril Prior, Mick Allen, Joe Ball, Chris Strawson, Norman Brown, Ken Sadler, ? Saunders
front: Donald Murfitt, Terry Harmer, Ernie Dewey, Gerald Wells, Len Reynolds.

Gerald Wells, d 2004 aged 71, was the father of Kevin and grandfather of Holly Wells.

This page was last updated 21 Jul 2004.