School Lists were issued in the Autumn term. They listed boys by Form showing the date of birth, House and County - only names are shown on this website. Governors, Staff, and Senior Boys ('Officers') were also listed. Form Masters were not always shown.

On this website the key peer group for Grammarians is is based on entry year, as explained in the Entry Year Guide page. Before 1951 boys entered SGS in Form II and thereafter in Form I.

For earlier years the information to hand on new pupils comes from the SALVETE sections of the school magazine. The School Lists and Salvetes were not infallible ....

School Lists or equivalent are sought for the following school years - loan or donation of an original (or provision of a clear, high quality, scannable complete photocopy) would be much appreciated. Please contact the editor if you can help:
1881-1914: the Admission Register for Soham Moor School for this period has been transcribed and is on this website: we seek 1914-1922

1920s: all sought: we have some SGS Admission Register information for 1922-1926

1930s: all sought: we have some SGS Admission Register information for 1933-1939

1940s: seek 40-41 41-42 42-43 43-44 44-45 45-46 46-47

1950s: seek 55-56 56-57 57-58 58-59 59-60
last update 2 Feb 2019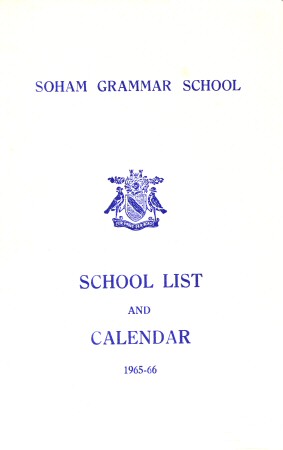 The School List above was for the school year Sep 1965 to July 1966, the editor's final year at SGS.
It is on the website.