Soham Grammarians - School Lists

About the links on left of your screen
Lists Index
For those present in a school year the key source is the School List and Calendar published for that year. When we do not have that that or an equivalent (or it wasn't published) we are dependent on your memory of who else was in your form, who taught you, and on information gleaned from the school magazine (eg Salvete).

If you have a School List and Calendar or equivalent information that would enable us to fill a gap please contact the website editor before you send anything.

Entry Year Guide
This helps to identify a Grammarian's year of entry to to SGS. The concept to keep in mind is:
in September of which year did my Form start their first year at SGS, even if I joined them later?

If you did join later, please contact the editor.


Staff, Head Boys, Bacon Cup winners, Governors: This link provides access to the many pages on members of staff.

Honours: Old boys and staff who have received honours.

OBA: Another means of identifying former pupils and staff is to list those who were members of the Old Boys Association.

Valete: The school magazine used to list those who were leaving, which for us is another way of identifying them.

School and Sports Photos: These also help to identify those who were at SGS.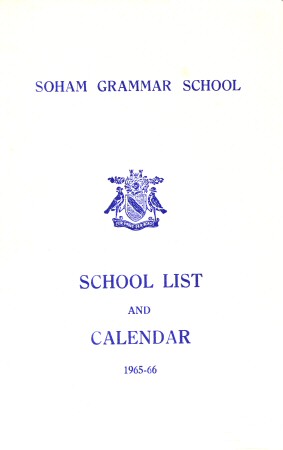 To jog memories the front of the 1965-66 School List is shown.