Soham Grammar School Photo, 1937 3/10 Ken Holt is in row 2

Soham Grammarian Summer 1938 VALETE
AK Holt, School Certificate 1937, lst XV Rugby
Soham Grammarian Autumn 1941 K Holt serving with the RAF
Soham Grammarian Spring 1942 K Holt (Observer's Course, Canada)
Soham Grammarian Spring 1943 RAF P/O K Holt
Soham Grammarian Spring 1946 Sqn Ldr AK Holt, DFC for bravery during bombing raids on Germany [ed: London Gazette, 2nd November 1945]

SGS Photo, 1937
Ken Holt
Lucky bomb aimer lived to tell tales of wartime life at air base
YORKSHIRE POST Friday 3 April 2009
FORTUNE favours the brave....
Veteran bomb aimer Ken Holt should not have been alive to tell youngsters his astonishing wartime stories yesterday at a North Yorkshire air base.

During the Second World War Mr Holt, now 87, cheated death repeatedly while flying missions over occupied Europe and was on leave when his squadron suffered its most devastating losses.

Mr Holt, from Thirsk, was part of the crew of a Stirling aircraft and beat the odds to complete a full tour of duty in 1943 when that type of plane was being shot down in huge numbers.

He joined the RAF in 1941 [sic] and served with it for the remainder of the war.

He flew 40 missions and was awarded the DFC for his "exceptional skill" aboard Stirlings and later Lancasters.

Later he became headmaster at Moorside Juniors School in Ripon and yesterday he came out of retirement to share his memories with pupils visiting RAF Linton-on-Ouse, near York.

He said: "If there is such a thing as reincarnation I'm coming back as a tomcat. I have ridden my luck so often that I think I must have already had nine lives. On Stirlings I manned the front gun turret until we reached the target. On one raid I left the it to go to the bomb aimer's position and after successfully hitting the target I went back to the turret only to find a hole in the canopy made by flak. It would have gone straight between my eyes if I had been in there."

Several missions later he was in the gun turret when a piece of shrapnel came through the side panel. "It flew across the bomb aimer's mat that I had been lying on just a few minutes before, and out the other side. It would have gone straight through me," he added.

Stirlings were restricted to an altitude of 15,000ft [sic] but often flew lower with a full payload of bombs, which made them sitting ducks, with Halifaxes and Lancasters dropping their bombs directly above them.

He added: "Sometimes we came back with incendiary bombs stuck in the wings. They should have exploded and that would have been the end of us but somehow or other we survived."

Mr Holt's luck meant he was on leave when more than half of the the 25 aircraft in his squadron were lost. [ed: He served on 115 Squadron]
Decorated airman and teacher
YORKSHIRE POST Dec 2013
Andrew Kenneth Holt, who has died aged 91, was a much travelled teacher who was born in Mendelsham, Suffolk, in March 1922.

He was the only son of Ernest and Ethel Holt and he had three sisters. His father was a saddler and harness-maker who set up a business in Sutton, Cambridgeshire, that enabled his young children to enjoy fishing, shooting and wandering free in the countryside.

His mother was the daughter of the station master at Marylebone Station in London (by Victorian standards this was a marriage between different strata of society).

At 16, Ken left Soham Grammar School to work on the railways as a clerk. However the Second World War changed his life forever. In 1940, aged 18, he enlisted in the RAF and flew his first mission the following year.

He became a bombing leader on Stirlings and then Lancasters and completed 40 operations. He beat the odds time and time again. Some of his near misses are recalled in the book Reflections, published by the White Rose York Branch of the Aircrew Association. He was awarded the Distinguished Flying Cross for his "exceptional skill".

He rose to the rank of Squadron Leader and was finally "demobbed" in July 1947, still only 25 years old. He then went on a teachers' training course at Leavesdon Green, Watford, and married Freda, a former WAAF. He returned to Sutton and they set up home in a semi-detached cottage with no running water. They were to celebrate 65 years of marriage and have two children.

He taught at the boys' primary school in Ely, where he later became deputy headmaster. In 1960, after a year at Reading University doing a Diploma in Rural Education, he was offered his first headship, in Devon.

From there he went on to run schools in Malaya (1966), Germany (1969) and finally Moorside Junior School in Ripon (1973). His innovations ranged from school trips into the Malaysian jungle, numerous environmental visits, computer lessons, a remedial reading unit and the entertainment of Ripon's pensioners by Moorside pupils. By all accounts he was a popular figure, affectionately remembered by his pupils.

On retirement in 1984 he continued to be active with fishing, wine-making, travel, and his membership of the local Aircrew Association and the Ripon Royal Air Force Association, whose president he became, giving talks and fundraising.

He remained active until this year.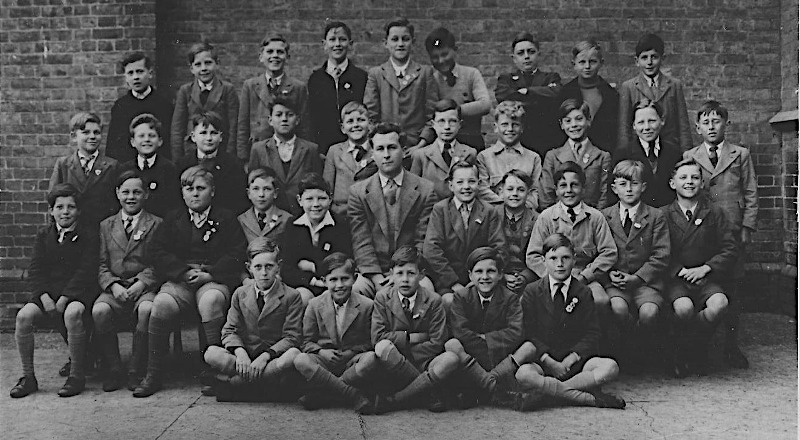 Silver Street Boys c 1950 - can you add names? :
via Mike Rouse

4th row (back): 1 - 2 - 3 - 4 - 5 - 6 - 7 - 8 - 9
3rd row: 1 - 2 - 3 - 4 - 5 - 6 - 7 - 8 - 9 -10
2nd row: 1 - 2 - 3 - 4 - 5 - Mr AK Holt - 7 - 8 - 9 -10 - 11
1st row (front): 1 - 2 - 3 - 4 - 5
15 Aug 15 Alan Frost SG54 wrote: Mike Rouse on the queries page mentions AK Holt. I well remember Mr. Holt - Tim - and feel sure (Ely at the time being a small and sometimes nosey place) someone must know a bit more about his background.

He deserves, in my opinion, to be remembered and certainly anyone who attended Ely Junior Boys School in the period 1950 to around 1960 will remember him well and probably fondly. In my opinion he was an excellent school master, who kept discipline well and did everything he could to keep our interest including reading to us for a half hour or so every Friday afternoon. I remember White Fang and Prester John.
Like most schoolmasters of the time he might have favoured the academically gifted a little. Ely Junior Boys School probably sent more pupils to Soham Grammar School than any other school and I believe he played large part in this. He never talked about his background (unlike many schoolmasters), so regrettably he remains a bit of an enigma to me.

1 Sep 15 Mike Rouse wrote: Ken Holt DFC was an ex-Squadron Leader Navigator/Bomb Aimer. He flew from a number of airfields including Downham Market and finally Witchford.
He was 'emergency trained' and like many of his contemporaries proved a great teacher. I owe him a great deal. He was just the sort of man that a lad needs at what was/is a challenging time. He went on to have a career in Forces Schools, ironically in Germany where he was a headteacher.
He retired to the Ripon area and some years ago I had the great fortune to get in touch with him and thank him. I also spoke to him on the phone and his voice was instantly recognisable even after sixty years.
I don't remember him ever talking to us about his war experiences, he was just one of those teachers who commanded respect. I don't suppose us thirty or more 'erks' proved too intimidating after what he had seen and survived! Just mentioned him in my new book on Ely!
David Clayton SG54 recalled: Stuart Saunders was very much the same [as Ken Holt, teacher at Ely Silver Street] - in slightly old-fashioned terms, civilised but also clubbable. Ken Holt taught the top year at Ely Silver Street Junior Boy's School (and may have been Deputy Head), which I suppose I left in 1954. In a more disciplinarian age, he had a relaxed manner that encouraged interest and questioning. For extra kudos, he also had a motorbike and sidecar. I'm sure that the school's excellent 11-plus record had much to do with him.
---



page created 12 Oct 19: last update 26 Oct 19: 15 Sep 20