Soham Grammar School
Staff v Short-trousered boys, 1972
The caption for this photo is:
Soham Grammar School headmaster Mr Edward Armitage and Robert Wiseman compare bats before the start of the Staff v Short-trousered boys cricket match at the school last Thursday*.

For this traditional end-of-term match, which dates back about fifteeen years, the masters play with special narrow bats while their opponents are not allowed a run-up.

The masters won by one wicket. Afterwards the boys were entertained to a strawberry tea and enjoyed a treasure hunt.

* the reverse of the cutting refers (fragment only) to the School's performance of HMS Pinafore, which took place on 20-22 July, so this match could have been on Thursday 20 July. Robert Wiseman played the role of Little Buttercup!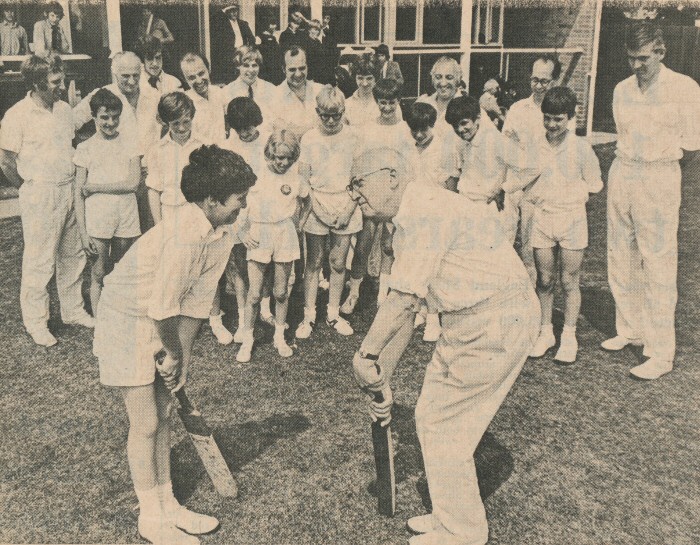 Other staff recognised in this photo include: Mr Tony Russ, Mr RA Taylor, Mr Mason, Mr Llewellyn-Jones, Mr John Humphry, Mr Lionel Hart, Mr Dick Bozeat
---
Are you among the boys shown?
source: Mr Dick Bozeat: publication and date not specified: press photo Ray Jefferson: if you can add to/correct this page please contact the editor
page added: 30 Sep 12