Soham Grammarians - Uniform items
A School Days exhibition held at Soham Library in April 2013 encouraged visitors young and old to come and relive their formative years. This was reported in the Ely Standard:
http://www.elystandard.co.uk/news/residents-young-and-old-relive-their-school-days-at-soham-exhibition-1-2019876


It featured a Soham resident, Mr Nigel Brynolf-Trett and a splendid blazer and tie worn by his late father Harold Arthur Trett who was a Soham Grammarian. Eventually Nigel was tracked down.

He says: My father kept his jacket all his life, though I'm not aware of him wearing it. I inherited it after his death.

He was born in 1913 and died in 2003 aged 90yrs. He got a scholarship to attend SGS. He worked in the Rates Department of the local council office all his life apart from a short time after he left school and his wartime service in the RAF.

He lived in Ely nearly all of his life, apart from a few years post-war when he lived in Cambridge, moving back to Ely in 1951 where he stayed for the rest of his life.

A cousin, the late Donald T Trett, was at SGS from 1943. I have my father's Victor Ludorum cap circa 1932, cricket ball (no details), photos and School Magazines from that period. Also my father's medals won for different sporting events.


He is on the School Photo for May 1932 3/15 Row 2:3.

When I went for an interview for SGS two of us were waiting near the stairs waiting to see Mr Armitage. The other boy suddenly noticed the school bell hanging nearby and decided to give it a good ring. He then moved smartly away just as the headmaster came out.

Mr Armitage never said anything but I wonder if that had any effect in his decision to fail me.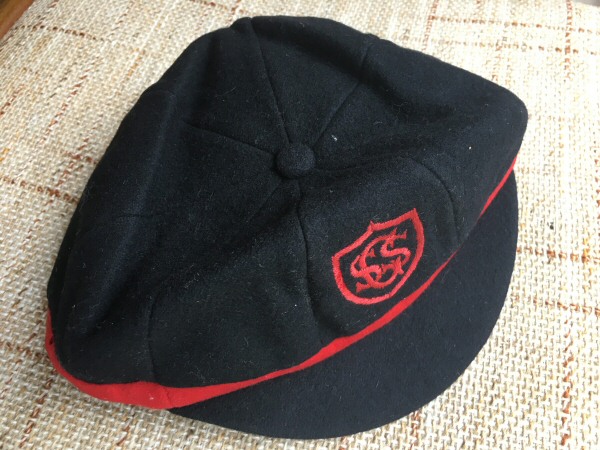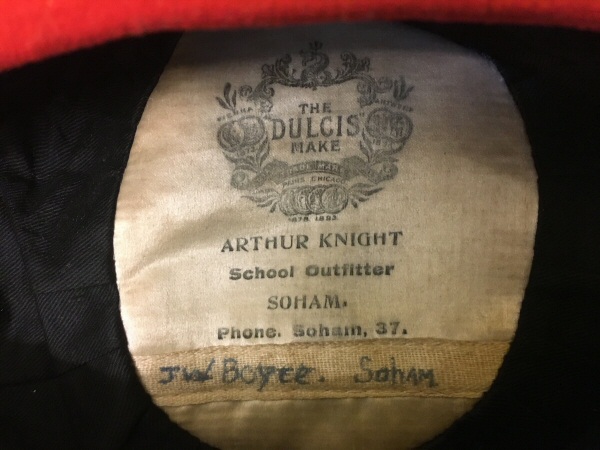 The cap above is believed to date from the early 1920s. It was donated by Alan Diver SG40 in 2016.

J.W. Boyce is listed as having gained Cambridge School Certificate July 1934 (Credit in English, History, Geography, French, Botany, General Science and Art). He is on the 1929 School Photo.

Alan writes: It must have been with the belongings of my niece who died recently and her husband passed it on, knowing that I had been to SGS. I obviously have no idea how my late brother Reg could have acquired it.




Tony Yonty Boyce was one of the Hulks - really big lads. I wonder if he was related to the JW Boyce above. The other label in the cap is Arthur Knight School Outfitters, which is where I got my own cap.




Now the date on the Football and Cricket Photographs of my brother Joe Diver was 1924. He was probably 14 at the time and I suspect Reg was probably one year older. I know that my father converted the thatched Ship Public House in Isleham to living accommodation for his family and the 'plaque' he put in the house is 1912. So Joe and Reg must have been about 1 year old and Joe 2 years old and my sister was a tiny baby at the time of the move. A fertile couple you might say! I will try to get some more exact dates from their off-spring!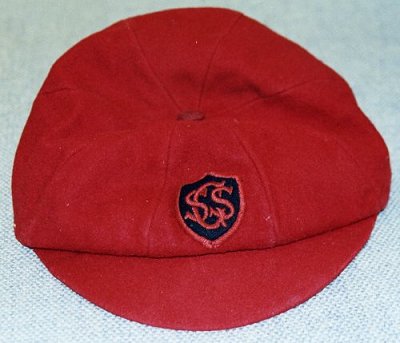 old school cap in SVC archive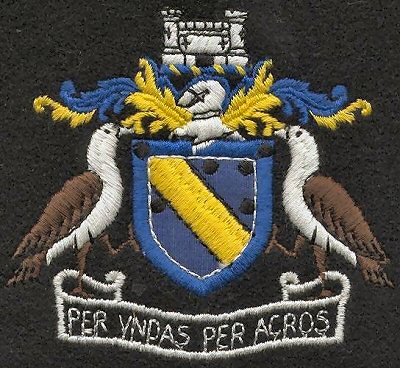 1960s fabric blazer badge in SVC archive which uses the then Cambridgeshire coat of arms.
Per Undas, Per Agros (not well embroidered!) translates from the Latin
as Through the Fields, Through the Waves - which will need no explanation to Cambridgeshire folk.


ties: old style Old Boys' tie - 1960s prefect - 1960s 6th form - modern SG : source Haslam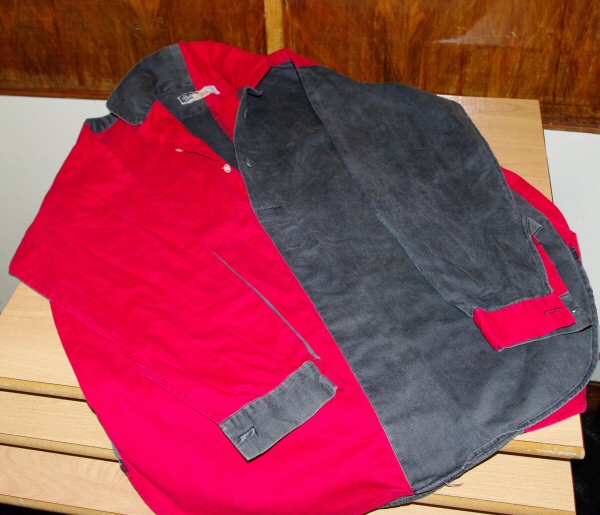 Sports shirt brought to the 2010 Dinner: image source Haslam
John Lenanton SG46: I lived on The Butts in Soham, less than a half a mile from SGS. I spent an extra year improving my A level grades. My brother Alan Lenanton was 6 years ahead of me at SGS. He was in the Sixth Form when I started and he was punished if I was late for school!

Apart from my Coronation Spoon the only other SGS items I have is my [much battered] blazer badge, which I have framed on the wall, my 2 caps, but have given up wearing them, and my scarf, which I have worn, but it is not without its moth-holes and it is seldom cold enough in Southern California to warrant a wool scarf!! I am sure lots of other Soham Grammarians have these very same items.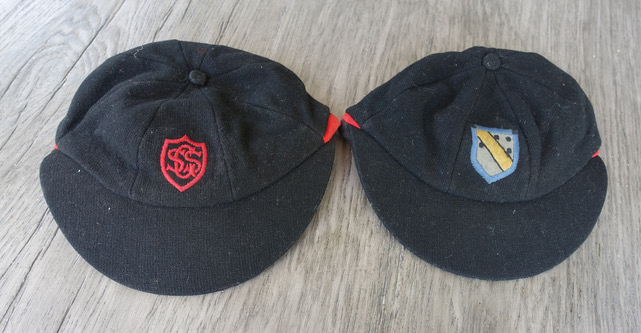 John Lenanton SG46's school caps : 'the one on the left was the School cap, the other one was the Prefect's cap'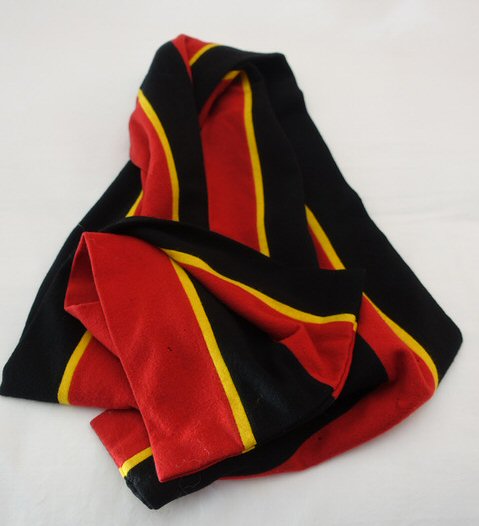 John Lenanton SG46's school scarf

John Lenanton SG46's Coronation Spoon
---
If you have other uniform items that may be of interest to the archive please first email a good digital photo of each one to the editor - contact
page updated 25 Nov 17: 6 Dec 17: 26 Sep 20