Soham Grammarians - Who/When/What?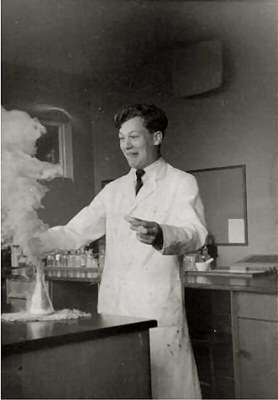 Bob Hinze 52 in the LVI probably in 1957
Bob says his grandchildren call it The Boffin. He would like to be reminded who took it!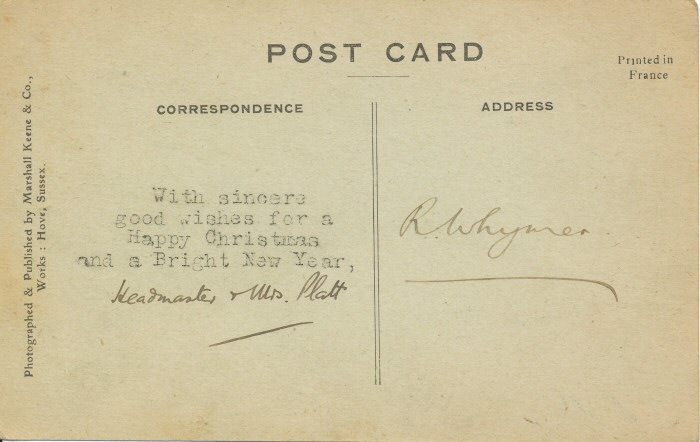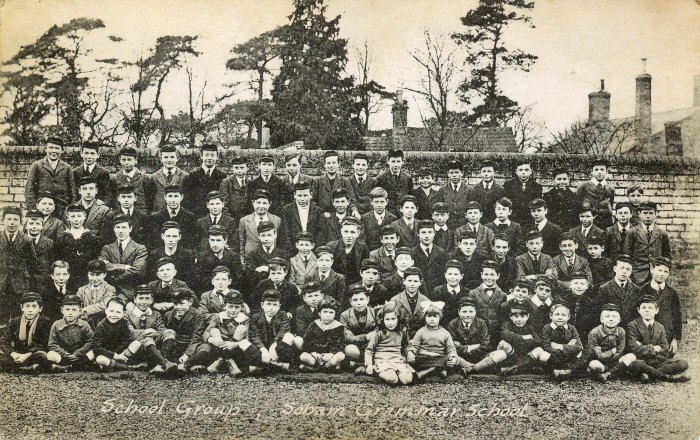 School Group, Soham Grammar School: An undated Christmas card in postcard form sent by Mr Platt, Headmaster 1916-1930, to R Whymer. Reg Whymer, Ivan's father, was born in 1908. Ivan is as yet unable to locate him in the group (which includes two or three girls) - source: Ivan Whymer 56
Where does it appear to have been taken? When? Can you name any of those shown?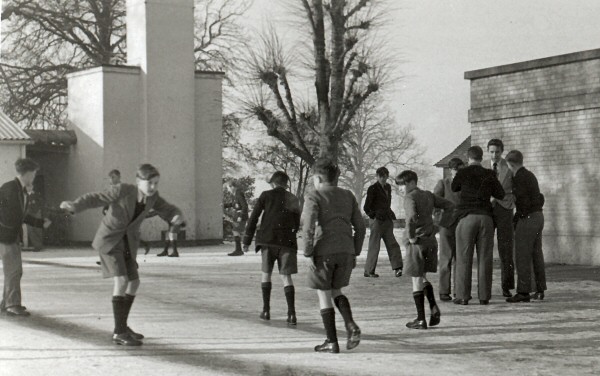 Icy1 - 1953 or 1954 - who?
source: John Butcher 47

Icy2 1953 or 1954
source: John Butcher 47

Icy3 1953 or 1954
source: John Butcher 47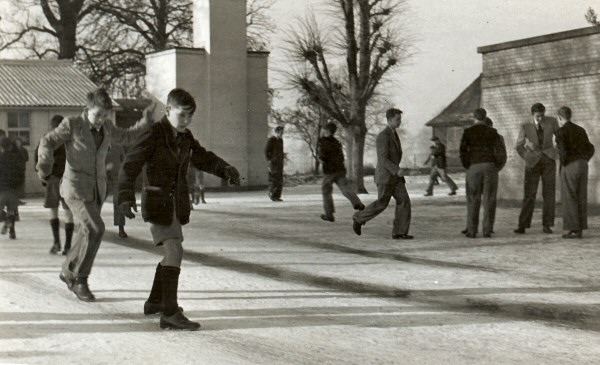 Icy4 1953 or 1954: 2nd from right, Victor Watson? 5th from right, walking, Ian Muir
source: John Butcher 47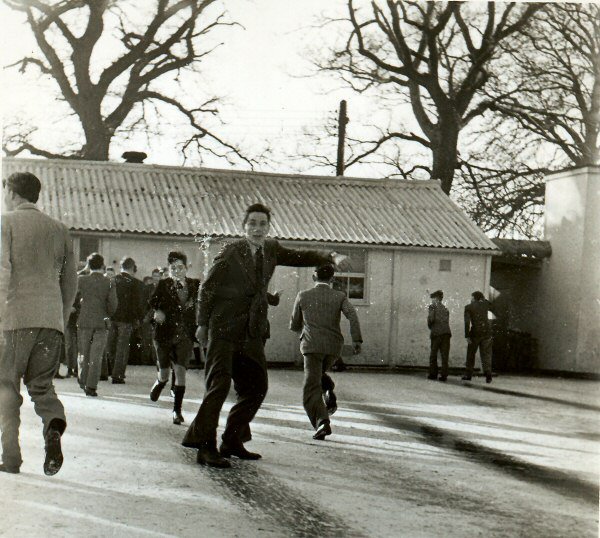 Icy5 1953 or 1954
source: John Butcher 47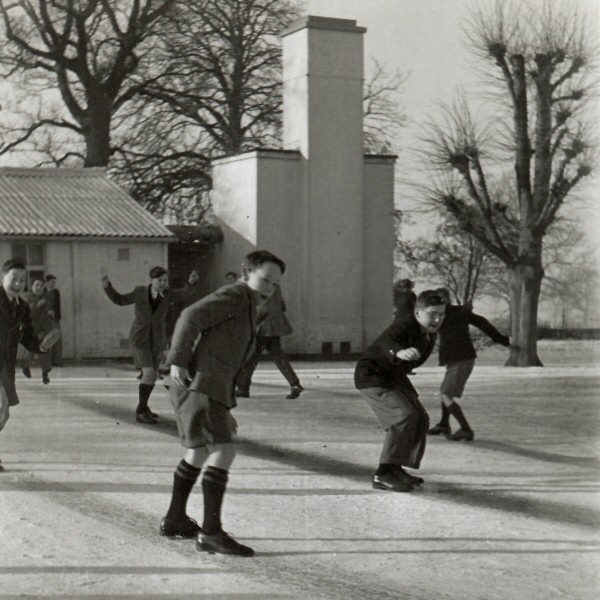 Icy6 1953 or 1954
source: John Butcher 47
---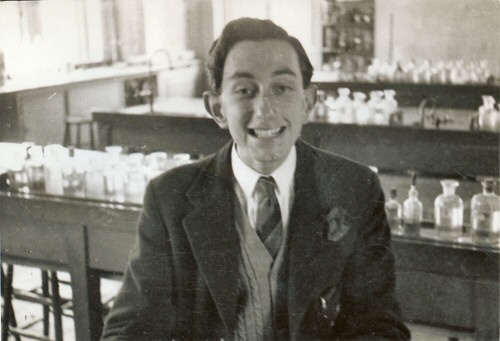 About 1954: Brian Pullen - Chem Lab was then on the first floor of Beechurst, SW corner.
source: John Butcher 47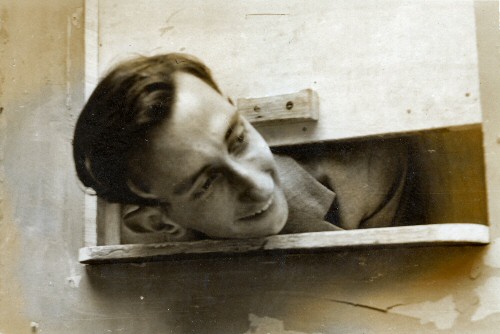 Brian Pullen 2 - trapdoor was on the set of The Ghost Train 1955
source: John Butcher 47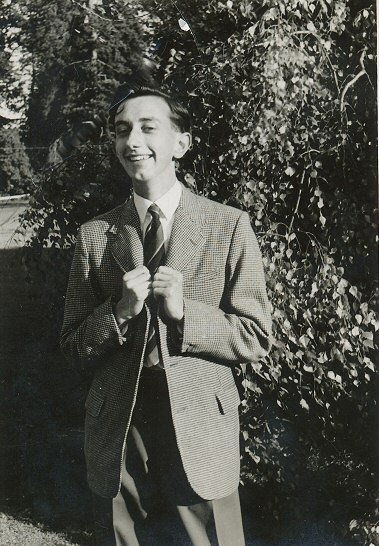 Brian Pullen: photo taken while rehearsing for The Ghost Train 1955
source: John Butcher 47

L-R: 1 - John Ansell, studying Peanuts: where? when?
source: John Butcher 47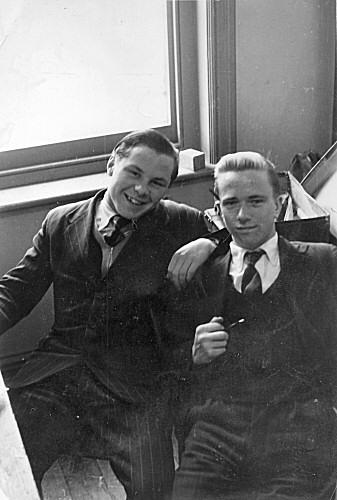 Ken Beman - John Fordham: photographed in the 'Super Sixth', ie. third year sixth form room
tucked away at the end of a first floor corridor in the NE corner of Beechurst.
source: John Butcher 47
---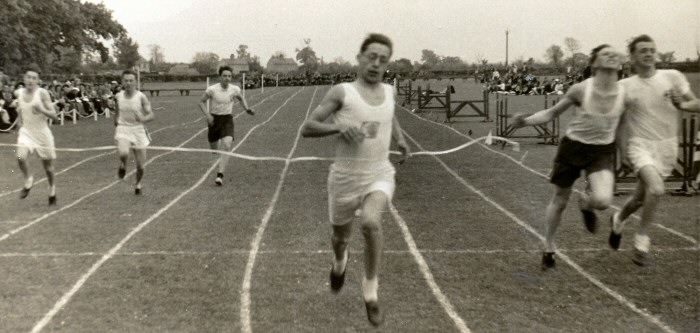 Sports - 100 yards in about 1952.
L-R: Brian Denley - Peter (Charlie) Green - Keith Bullman - John Butcher - David Bray - John Currie
Original by Brian Lane
source: John Butcher 47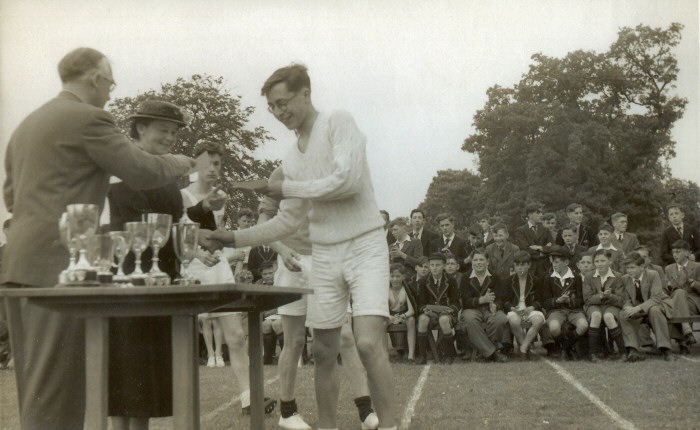 Probably 1952 Sports: John Butcher with Mr Armitage and unknown lady
source: John Butcher 47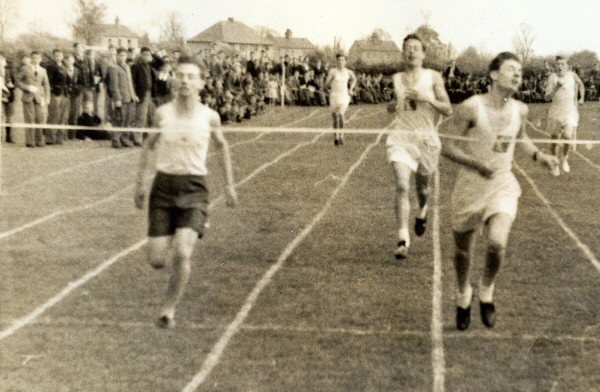 1953 Sports - close finish in probably a 220 yards.
L-R: Peter (Charlie) Green - 2 - John Butcher - Brian Denley - Graham Docherty. Original by Brian Lane
source: John Butcher 47


1953 Sports - looks like a 440 yards. Mr Thomas holding tape, Ted Quinn behind, EH Tabraham behind John Butcher.
L-R: Peter (Charlie) Green (black shorts) - 2 - Brian Denley - John Butcher
Original by Brian Lane
source: John Butcher 47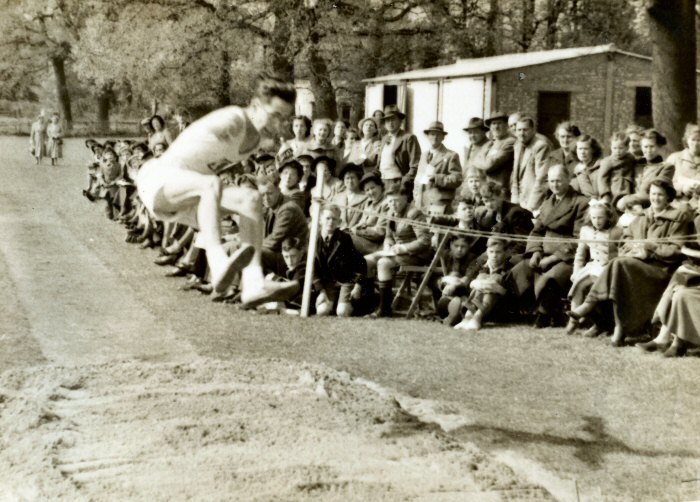 1953 Sports - JB Long Jump 14ft , who won? Any other ids?
Original by Brian Lane
source: John Butcher 47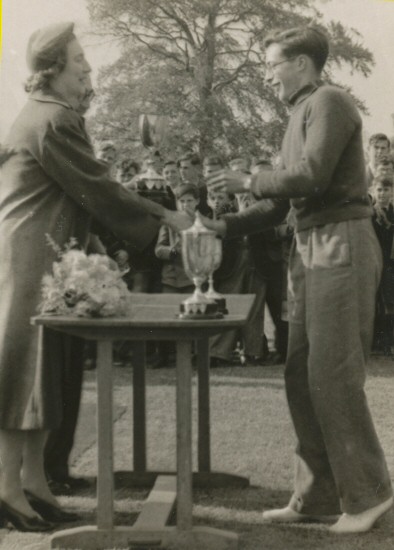 1953 Sports - Mrs DM Bacon awards John Butcher the Senior Victor Ludorum, Mr Armitage assisting
Original by Brian Lane
source: John Butcher 47
---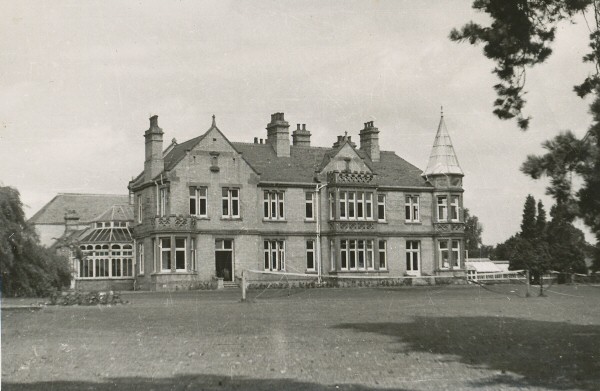 Tennis nets on the Lawn, 1950s - which year?
source: John Butcher 47
---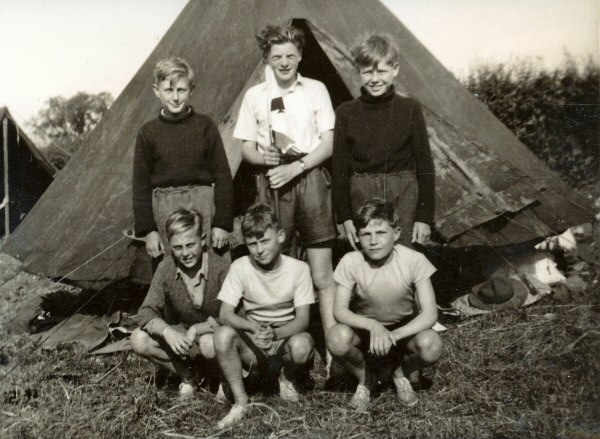 1950 Gillingham, River Waveney, near Beccles
back row: Donald Spanton - J Malcolm Watson - 3
front row: Brian Uttridge (?) - 2 - CA Fretwell
source: John Butcher 47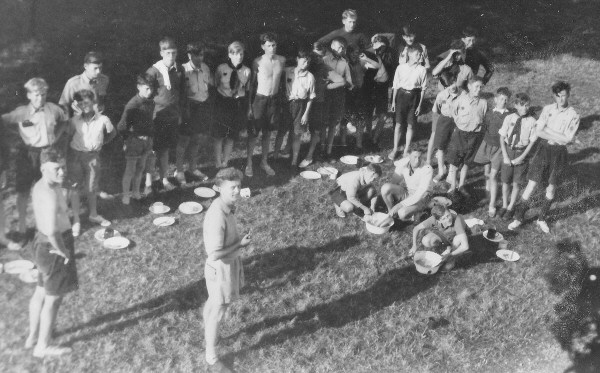 July 26th to August 8th 1951 at Woodbastwick Hall, the Norfolk Broads area
TLR shirtless, Rex Waller, who else?
source: John Butcher 47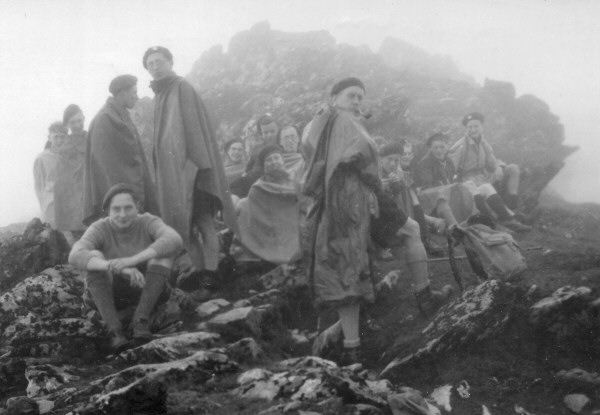 2700ft - Snowdon - "1952 summer camp was held at the National Forest Park, Beddgelert. On Thursday the Seniors decided to attack Snowdon. We took the Pitt's Head Path and though our map-reading was put to the test, we managed to battle over knife-edges and steep rocky screes, in swirling cloud for the last thousand feet to the summit. Never has a cup of Bovril tasted so good and so comforting."
sitting facing camera - Tony Yarrow, standing facing camera - John Butcher - standing with pipe, Mr Riley
four behind TLR: Roger Lane (?) - John Royston - Ian (Alfie) Hobbs - Peter Graves
two far right: J Malcolm Watson, Ian Muir
source: John Butcher 47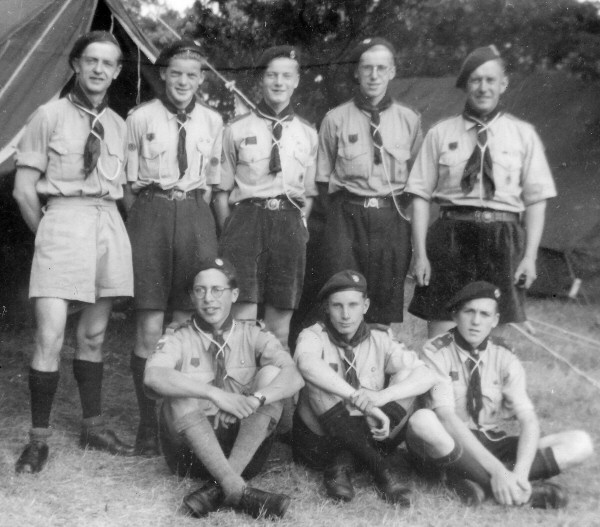 1952 summer camp was held at the National Forest Park, Beddgelert
back: Mr Rex Waller - J Malcolm Watson - John Dolby - Peter Graves - Mr Tom Riley
front: John Butcher - Lionel Wayman - Graham Docherty
source: John Butcher 47
---

1

2 - Muggie (J Malcolm) Watson 49, elder brother of Jeff Watson who has contributed an article about boarding. JMW writes "I wonder where Mrs Armitage got [this photo] from because I don't have a copy. I think it was my first passport photo needed to go to the international Jamboree in Austria."
He adds "Muggie originated in Sutton Primary School, but I don't know why". Anyone know?
(original ID by Neil Holmes 52 and Peter Roe 46)


3

4 - Roy Leggett 43 (ID by Peter Roe 46)

5 - Mike Whetstone 43 (ID by Peter Roe 46)

1-5 are via Mrs Armitage and so may be boarders.

Please contact the editor with identifications, ID confirmations/challenges
---
page last updated 13 Nov 2010