George Ellis Dann
(1933 entry) was our oldest reunion attender for a number of years. He passed away peacefully in Broomfield Hospital on 3rd December. He was a devoted husband to the late Pat and is sadly missed by his family and many friends. His funeral service was held St Mary's Church, Great Dunmow on Monday 22nd December 2014.
George was born in Ely. His father was gassed in WWI, which is believed to have been the cause of his death. His mother was a Blackwell.
She then married Mr Tebb, a baker at Cross's on Fore Hill where she worked as a waitress.
George entered Soham Grammar School in 1933. He is in the
1935
and
1937
School Photos. He was good at
athletics
and ran for Hereward House.
In the Royal Drawing Society's Examination, June, 1934 George was awarded an Honours Certificate in Division I.
In the Lent 1937 issue of the
Soham Grammarian
the Dramatic Club reported: "In the opinion of most people the
Rude Mechanicals' Underplot
from a
Midsummer Night's Dream
, which we gave on Speech Day, was the best performance we have given for some time ... As women, Dann (Hippolyta), Field (Helena) and Pinion (Hermia) were quite ravishing."
Scouts G Dann and H Cook cycled to Castle Rising and Hunstanton on June 11-13 1937: "Although fine weather attended them for two days, rain marred their return." He became Patrol Leader of Peacock Patrol and wrote an account of the
1938 Summer Camp at Robin Hood's Bay
.
He got his School Certificate in July 1938, was a Prefect and was in the 1st XV [at that time the School played Rugby not Football].
At the Old Boys Dinner in December 1939 "Messrs Geo Dann (piano-accordion), DJ Day (mandoline) and SE Banyard (elocution) contributed to the gaiety of the evening."
On April 29th 1941 Cadet G Dann of the School's 773 Squadron ATC No.1 Flight was promoted to Acting Flt/Sgt.
The Autumn 1941
Soham Grammarian
records that "On Saturday, November 15th, the ATC spent a social evening after an InterFlight soccer match in the afternoon. Games and competitions were organised between the two Flights, and No.2 Flight eventually won by 142 points to 62. They won the soccer match, the aircraft recognition and the celebrities, but lost the whist drive! Music was supplied by Flight Sergeant Dann and Cadet Murfitt on piano-accordions. All thoroughly enjoyed themselves, and credit must be given to the NCO's under P/O Crouch for all the arrangements. Several NCO's are becoming very efficient lecturers on aircraft identification with the help of the School epidiascope."
The 1st November 1941 Speech Day Programme lists F/Sgt GE Dann among those gaining ATC Proficiency Certificates.
The Spring 1944
Soham Grammarian
included Pilot Officer G Dann in a list of Old Boys who had visited the school that term.
He and Patricia (Pat) Plumb met when they were at school (she was at Ely High School). She was the daughter of Robert Plumb. They married in April 1944 when he was still a Flight Sergeant in the RAF. Pat was in the ATS, serving with 589 Heavy Mixed Anti-Aircraft Battery, Royal Artillery. George served at Great Dunmow when on 620 Sqn.
| | |
| --- | --- |
| 20th April 1944 | Commissioned |
After WWII George went to work in Great Dunmow for the Post Office as an engineer.
At the 2003 SG Dinner George donated an OB Blazer. It had belonged to his brother-in-law, John Chapman.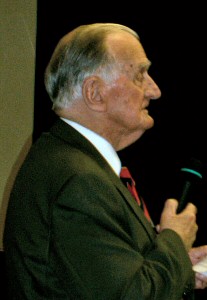 George at our 2009 Reunion Dinner, proposing the Toast to
Absent Friends
.
At our 2012 Reunion Dinner George's contemporary Wilkes Walton SG37 said he "had been invited earlier in the week by Frank to step in for this Toast, usually proposed by George Dann SG33. George had been present earlier in the evening but as planned had left early to look after his wife who was poorly. " Pat died in 2013.
SOME OF GEORGE'S WARTIME MEMORIES
George Dann
: "I served in B Flight 1 Squadron 11 ITW - but at Bramcote Lodge (now Bramcote School) between 5th September and 12th December 1942. Memories of my Scarborough training are sparse but I learned to fly on Tiger Moths in February 1943 at Heaton Park. I then sailed from Greenock to Canada on the
Queen Elizabeth
and trained on Ansons before returning to the UK and flying for Coastal Command. After taking a Navigator's course I gained my commission as a Flying Officer in Squadron 620 Bomber Command, and flew Whitleys, Wellingtons and Stirlings.
I was then transferred to 38 Group Airborne Ops, for SOE work (Special Operations Executive). I dropped supplies to the resistance in Denmark, Holland, Norway and France. We used Stirlings with a crew of 6 and would drop a load of 24 containers from 500 feet.
Only a single plane was sent a night. We would navigate to a field, and then flash a signal light to the ground. A signal letter would come from the ground. The Wireless Operator would get confirmation, and then the load would be dropped. An average trip to, say, Norway would take about four and a half hours. We would leave our base between 10 pm and 11 pm, and, all being well would return around 3 am. That afternoon we would get a message from the undercover Wireless Operator advising success or otherwise of our drop."
From
God Bless the Prince of Wales - History of No.11 Initial Training Wing
based at the Price of Wales Hotel, Scarborough, by David Fowler
TRANSCRIPT OF GEORGE'S ACCOUNT OF OPERATION VARSITY - The Crossing of the Rhine supported by Airborne Troops.
On the day March 24th 1945. A beautiful day and the air was fresh and clean sky was bright blue and very little cloud. We Stirlings were lined up as were gliders, on the sides of the runway. The signal was given to start engines, the gliders was [were] hitched up behind us by the rope. Incidentally the rope contained 2 wires right through which could be plugged in at both ends and we could speak to the glider pilots.
Ready for take off, and running down the runway at full throttle it seemed an age before we felt the glider become airborne and then ourselves.
We gradually found ourselves in formation heading for the East Coast following what seemed many more craft in front then more aircraft were joining us from both port and starboard knitting into a fast expanding stream. Our altitude was around 1800 feet.
Halfway across France dots appeared on the port side - aircraft returning from the Rhine. An amazing sight. Other dots above and around were our fighter cover of Spitfires and Mustangs.
We crossed the Rhine and map reading became more incisive as the bomb aimer and navigator kept us exactly on course for our LZ (Landing Zone) which we had been allocated. Some were LZA and some were LZP. At the LZ we told the glider pilots to release themselves when they were ready (we had been conversing with them every few minutes of the last 20 minutes or so). This release was probably anywhere between 500-800 feet
On release I did a climbing turn to set course for home. There was some enemy fire during the run-in fact mostly from small arms and the only fighters visible were our friendly Mustangs. There we were heading home, trailing our empty rope; we dropped ours while crossing the Channel. We wondered afterwards whether those ropes would have been more use to farmers if we dropped them over fields and perhaps fishermen, if we had dropped them on the beaches we passed over.
We landed back at Dunmow after 6 hours 15 minutes flying time, we queued all round the perimeter track, and the aircraft were subjected to close scrutiny by Eng[ineer] Officers, Flight Sergeants and ground crew, in case a resupply was needed.
DUNMOW BROADCAST & RECORDER, FEBRUARY 15, 1989
Memories of days gone by
I was very interested to read your front page article of February 1, 1989, issue concerning the occupation of Great Dunmow Airfield by the 386th Bomber Group of the US 9th Air Force. You may be interested to learn that the airfield was taken over from the Americans after October 1944 by RAF Squadrons 620 and 190 with Short Stirling Mk. IVs replacing the Marauders.
I, in company with my crew, served on 620 Squadron Stirlings on S.O.E. Operations, dropping supplies to Resistance Groups in France, Denmark, Holland and Norway and various glider towing operations, the last of which being the Rhine Crossing on March 24, 1945.
Further information on
Thanks for the Memory
page 4 in the same issue - I cannot go back as far as the time the picture of A.W. Wood's Tailor Shop was taken, but I do remember visiting premises of a Mr. Wood in Dunmow High Street. The shop was until fairly recently Eric Perry's D.I.Y Shop and is now
Terracotta
bakers shop between Pulfords and the Indian Restaurant. These premises could have been those pictured in your photograph.
My reason for visiting Mr. Wood - I was commissioned very soon after joining 620 Squadron at Dunmow and well remember the then Mr. Wood, sitting cross-legged on a raised dais by the light of large windows, upstairs, unpicking my Warrant-Officer 'Tate & Lyle's' on the lower sleeves of my uniform and sewing on my Pilot Officer rings.
The 'Crossing the Rhine' glider operation on March 24, 1945, will doubtless be remembered by Dunmow residents at the time when the skies over Dunmow were fairly full of Stirlings towing Horsa gliders. They will also remember March 20, four days earlier, when one of our Stirlings was shot down in the early evening over the airfield by an 'intruder', probably a Junkers 88G, crashing near Ford Farm on the banks of the River Chelmer.
This spot was very near to the existing new river bridge under the Dunmow by-pass and I understand the bridge has been named 'Stirling Bridge' in remembrance of that event. All the crew were killed with the exception of the Flight Engineer who managed to escape by parachute, coming down, I seem to remember, near Bamston.
GEORGE DANN Ex. Flying Officer Pilot, 620 Squadron, Dunmow.
The Editor is grateful to Pam Blakeman of Ely for the family information and for George's notes on his time in the RAF. Pam and Pat were cousins. If you can add further recollections or photos please contact the editor
page created 25 Oct 16