The event opened its virtual doors via Zoom at 14:00 UK time and, just as when we are in Beechurst Hall at Soham Village, we had tested sound & vision, provided a rolling presentation of slides on screen listing those registered, those who had sent apologies, and how we intended to adapt our traditional Roll Call.

As people arrived they were greeted and were able to chat with others. Sue and John Dimmock, who had run the Box Office, did a great job sorting out muting and unmuting on Zoom with each arrival.

Our Guest of Honour was Dr Carin Taylor, Executive Headteacher of The Staploe Education Trust, who has not missed any of our events during her tenure when she began as Principal of Soham Village College in 2006.



John Dimmock SG59 opened the proceedings at 14:30 by welcoming us and our Guest of Honour Dr. Carin Taylor.

He especially welcomed Mrs June Lawrance and her daughter Gaye. As John said anyone taught Maths by her late husband Albert Lawrence will remember him "I'd be surprised if you don't!".

Another family participant was Mrs Carol Morton whose late husband Michael Morton SG'54' was a considerable character on and off the sports field during his time at SGS.

We were also joined by Peter Scott (Maths 60-72) who lives within sight of Beechurst - and across the globe, by John O'Toole (English 63-66) in Australia, and Grammarians in the USA, Canada, South Africa, Saudi Arabia and Thailand.

We were particularly delighted that a third of those registering were first-time attenders (in this century!). John Dimmock hoped that when we get back to Beechurst, some would be able to come and join us there.

He then handed over to Frank Haslam SG'59' who talked through the way this Reunion was going to run, bearing in mind that for many this was their first experience of Zoom and doing things like Chat, Mute and Unmute.

He reminded us that, as previously advised, the Reunion was being recorded, "so you have been warned" [laughter], to aid reporting.

Frank added that one thing he hadn't thought about was that when it came to the Toasts - The Loyal Toast and To Absent Friends - we'd be sitting down in front of our screens. So whether we stood up was up to us - but if like him we were attached to something (headset/earpieces), there might be Health & Safety problems!


He introduced Tony Willenbruch SG62, who had a very distinguished career in the Royal Air Force. In retirement he's involved in a number of Livery Companies in the City of London, as well as chairing Sidney Sussex Alumni - which is why he's mostly not been able to join us at our Reunions. So we were delighted that he was here. With our glasses readied, Frank invited Tony to unmute himself and propose The Loyal Toast.

Tony Willenbruch SG62: Thank you, Frank.

Ladies and Gentlemen, ever mindful of Frank's warning and perhaps adopting 'Navy Rules' - which does not come naturally to me - that is, remain seated - Ladies and Gentlemen - "The Queen".




The Roll Call

John Dimmock then got us ready to take part in an adaptation of our traditional Roll Call, this time calling us by name in alphabetical order to state: our years at SGS, where we lived then, where we lived now and to recount any brief anecdote of our time at SGS.

There were so many not so brief anecdotes that it took over three quarters of an hour. But it was fun and probably went some way towards making up for not being able to chat as usual with those around us at the lunches. The transcript has been edited to make for better reading:

David Beale - 1962 - lived in Ely - now in North Derbyshire, near Bakewell - played drums when I was at school and I'm still playing drums now.

Chris Bull - then in Ely - now in Longstanton - didn't join SGS until 1954 because I came from a secondary modern school and got the 13 Plus - didn't put me in Year 3, put me down a year, but I still struggled [laughter] - quite an experience, my first Zoom.
Alan Frost: he's still a good looking basket [laughter]

Michael Clark [SG52] - Mike Clark - born in Isleham, but grew up in Romsey Town, Cambridge - one of the very elite group who travelled to school on the train from Cambridge to Ely and on to Soham. Ely to Soham on the train, at first. Now living on the Gold Coast in South East Queensland, we've been in Australia for 32 years.
Chris Bull, you you used to date my cousin Jenny Wells in Isleham when you were a young lad, how about that?
CB: There were so many, you can't expect me to remember them all [laughter].
Actually, she was a nice girl ....
Frank Haslam: Brief anecdotes, please [laughter].

Kenneth Clift - 51 to 55 - from Littleport. I too was a 13 Pluser, one of the first I believe, certainly the first from Littleport.
No anecdotes. Just miserable. [laughter]
unknown: Have another drink! [laughter]

Martyn Davies - 66 intake, left 71 when we became the all new shiny thing over in Ely - now in Balham, South London. Peter Scott taught me Maths A level, which was a disaster for me. We did an extra O Level in the first year of Mathematics A level - got a grade 9, which means you probably spelled your name wrong on the papers as well as getting all the calculations wrong - the writing on the wall for me. Years later, grade 9 is now the best grade you can get.

Richard Dean - 56 intake - Peter Scott also taught me - I have the not inconsiderable distinction of being not only taught Maths by Bert Lawrance, but also having been a colleague of his when I came to teach at Soham Village College, as it became, in 1975, at which time I was teaching boys who were the last of the Grammar School intake before we went comprehensive. Lovely to see everybody, especially June.
"And you" said June.

Alan Dench - entered Soham 1967 - in 1972 I moved to the Sixth Form in Ely - lived in Cambridge then - now in St Ives in Cambridgeshire, lived in a few places between, around the world - nice to see everyone - I'm very happy to be part of this unique Zoom experience for our reunion. I can say "I was there" [laughter].

John Dimmock - came in 1959 - probably the school was very pleased to see that I left in 1965 - lived in Ely then, one of the Ely boys on the bus - now in this wonderful village of Burwell, if anyone knows where that is.

When I was in 5R (I don't think it stood for Mr. Rennison, who was our Form Master, I think it's Remnants and Remainders) I was asked by a certain master, who taught Latin and RE, to record for him a weekly religious radio broadcast, which I did religiously. Sorry about the pun.

I had to take the recording round from class to class. All the certain master had to do was play the broadcast. Then he switched it off and I had to go back, collect it and put it away.

One week it didn't record. What do I do now? I didn't do anything, apart from leaving the week before's broadcast on the machine. And for the whole week they were hearing exactly the same as they had the week before. And that particular master never noticed. I got away with it [laughter].

Alan Diver - there's another Diver here I hadn't known about - I was at Soham 1940 to 1946 - Stanley Stubbs was the Headmaster and Bish Johnson was Deputy Head. Masters went off to war and we had some young people come in - one was Miss Margaret Lawson, who taught English. A friend of mine was Leslie Handley, who we called Tommy Handley of course, because of the famous comedian. Tommy and I sat either side of Miss Lawson on the lunch table. She was a very attractive young lady. We enjoyed that very much. Nice to see everybody. First time I have Zoomed and I enjoy it very much.

Keith Diver - joined in 64 and left in 70 - from Fordham, now in Bury St Edmunds. The boys of my year have not really supported the reunions over over the years. But one person who used to come was Ivan Cox. I met Donald Monk and John Dimmock, amongst others, a couple of years ago when I went to [Ivan's] Celebration.


Patrick Faircliffe - 1948 to 53 - born in Burwell - followed my brother [James] to Soham, he was four years senior to me - now in Wymondham, Norfolk.

Two brief anecdotes - Dr. Armitage was shocked to learn very few boys in the school knew the poem If by Rudyard Kipling. We all had to learn it, and one person was nominated or selected by their Form to say it from memory in Assembly. I ended up with that role!

Pieces of advice that stay with you all your life - one morning the Headmaster gave us a warning that if we were ever in a public place and there was a noise behind us, never turn around - he admitted that he had done that in Ely Cathedral at an event, and found his face on the front page of the local newspaper. These are little snippets that keep with you. Good to see everybody.

Geoff Fernie - nice to see everyone - thank you, Frank and John for organising this. It's taken a lot of work. I'm sure we're all very grateful.

I'm a 59er. I lived in Ely, mostly right opposite where the High School was. My sister Judie was Head Girl at the High School. She's sent me the book she's just written - From Inside The Heart, about her life in cardiac surgery and what she saw in terms of heart valves and transplants and things.

I too was taught by Punch Lawrance, who I remember extremely well - I've always been very grateful to him - happy to see Mrs. Lawrance here - now live in Toronto, been here 47 years - my mother's still in Ely, she has Alzheimer's quite badly now - normally I travel to Ely about three times a year, this year it's been a bit stressful and it's not even certain I'll be there for Christmas. But it's lovely to see you all.

Alan Frost - Frank, you and John are doing wonderfully. From Ely when I attended Soham. I lived in Dartmoor before that, but they released me from reform school [laughter] - Mr. Bull always was one of those good looking baskets, you've worn well, I'd recognise you still, you'll be glad to know - joined in 54, here for seven years until 61 - now in Bridge of Allan in Scotland - usually there are a lot of 53 and 54 people but we're a bit thin on the ground this year.

James Gilbert - 65 to 70 - Lived in Littleport then, and now - I wondered if I was the last person to receive corporal punishment from Slug Riley [laughter].

Phil Green - I got involved in this after meeting John Dimmock at the Crown Honda garage in Soham - I'm a 68er, it's nice to see one or two from 67 and Peter Scott - I remember Mr. Lawrance as well at the time of the changeover from the Grammar School - fond memories there - I was one of the Prickwillow boys that used to get a taxi - Ivan Cox was a great friend but sadly not with us anymore - now live only about a mile away in Brewhouse Lane in Soham - married locally - first time with Zoom, so Frank and Jack, well done - nice to meet you all - perhaps another year, I'll walk down the road and have dinner with you.

Frank Haslam - came in December 1960, in Form 2H - [so I'm a '59'er] - the Form master was the wonderful Gordon Hemmings - stayed until 1966 - lived in Burwell, we've just sold my Mum's flat - still have strong connections with the village - [now live in Leatherhead, Surrey.]

I mentioned that I came in December 1960. My parents and I came to the school to see Edward Armitage. He said to my father, "You're just moving in. You won't want Frank under your feet while you're doing that. He can come here and get to know various people. Oh, and by the way, we're just doing end of term exams."


Thanks a bunch [laughter].

John Hill - from Newmarket. Good to see Alfie Hobbs here and Patrick Faircliffe, from my year, 1948, and Pete Jeffery from just around the corner from me. Left in 53 - straight into the Army, served 25 years, in Germany, Singapore, Cyprus, Blandford, Catterick, Catterick, Catterick, Catterick, Catterick, and the Gulf, Masirah - left as a Warrant Officer, I could have left as a Brigadier but the Army obviously didn't recognise talent enough - run my own company. Good to see you.

Ian Hobbs - 48 to 55 - originally from Soham, travelled a long way to Isleham and then to Whitby and then back to Soham. When I was a prefect, in the old school, in Assembly all the prefects had to line up alongside the forms they were in charge of.


Rex Waller asked me one morning to go up to Barker's and get him some Four Square, which I duly did. On my return, everyone was in the Hall, and I had to join at the back. I was grateful for that, because that day Mr. Armitage decided to have a go at crewcuts, of which I was a clan member. I always think that Rex had foreknowledge [of EA's 'go'] and he actually got me out of the situation. I am ever so grateful that.

Good to see June Lawrance. I'm eternally grateful to Albert because I was never any good at Maths, but he actually terrified me to get through.

Roger Human - another one from Isleham, but I when I came to Soham in 46 I was living in Fordham - currently in Spalding, via Nottingham. Just before I left after O Levels, I was sent by someone to take something to a little shop diagonally opposite The Fountain in Soham. Behind the shop was the living room in which I was horrified to see the dining table, which was full of numerous pieces, had wire netting around it. Underneath there were three chickens, with sawdust and wood clippings on the floor. That is something that as a 15 year old, utterly horrified me.

Kenn Hunter - I couldn't do computer studies when I was at the Grammar School, and the time it's taken to log in here, I still can't do it [laughter]. Kenn Hunter, Burwell, 67 to 72. What I now remember are friendships - realise how close you all are, through the years. It's really amazing.


No mad anecdotes about my time at the Grammar School, just it was a breeze. It was a ball. Great teachers. Great pupils. Couldn't ask for any more.
Alan Dench - Hi there Kenn, nice to see you.

Peter Jeffery - 1949, then in Newmarket - now in Carleton Rode near Wymondham in Norfolk.

Small anecdote. English Literature. Bish Johnson entered the classroom with his usual suitcase, up went the lid, all quiet in the class until a large expulsion of human wind came from the rear of the room. Bish lowered the lid of his suitcase and said "Stand up the Trumpeter at the back." [laughter]

Terence Jordan - 1948-54 - I lived two miles NW of Little Downham - I think the people that have moved in call it Downham-in-the-Oil ... they've renamed one of the streets as well to make it a bit posher - now living in Gloucestershire - can't remember anything amusing, sorry. [laughter]

Bill Kelly: [Frank Haslam, in covering this being the 75th anniversary year of V-E and V-J Day, spoke of the connection between Bill's father (Corporal WA Kelly RE of 591 Parachute Sqn) who with Ralph Dunham SG59's uncle, Staff Sjt Duncan Wright, Glider Pilot Regt AAC (SG32) was captured and executed by the Germans on D-Day.]

I joined the school in 1955. I was living in Ely, my parents' surname was Jacobs [Bill's mother had remarried]. I had an unremarkable time at Soham although I think I was most probably the first person to try and burn down the Chemistry Lab. When I was a Chemistry Lab monitor in 1961 I emptied a bottle of naptha down the sink. Unbeknown to me it contained particles of sodium which unfortunately started a fire in the drains below the Lab. I learned some very good firefighting skills as a result of that. [Bill went on to become a highly qualified engineer and Captain in the Royal Navy.]


Ranjit Kurrie - 1961 - first teacher Lionel Hart - I was one of the not so elite who used to come on a double-decker bus from Cambridge, which gave us a chance to catch up with homework. Still in Cambridge. I remember Mr. Lawrance, I believe he went to the County High School for Boys in Cambridge - Trevor Smith told me about today - thank you for inviting me - nice to see you.


June Lawrance (with her daughter Gaye) - Hello - wife of AEL who I think you all know well! Thank you for organising this.
John Dimmock: It's lovely to see you June. You realise how well respected your husband was.


Donald Monk - 1952 to 57 - lived in Ely and still living in Ely - sorry to hear Bill Chilcott can't be with us though he had registered, he was the only other 1950 who was to be Zooming this afternoon. Thanks to Frank and everybody for organising this.
Carol Morton - I was married to Michael Morton, SGS'54'. I'll always be thankful to the Grammar School, because the Sixth Form Dance was my first date with Mike. What started then lasted 57 years. He died five years ago. He had Myasthenia Gravis, diagnosed when he was 40 so his last years were not good.


One of our 3 sons had MS. He married a Thai girl. They produced two little girls, who kept Mike so happy those last years. Mike was manager of Sun Alliance - using his maths, which he learned at school. He was a brain-box and very much a footballer and a cricketer. I have loads of photographs from his SGS days. He was a lovely gentleman.
Alan Frost: Carol, I liked Mick a lot.
Carol: I've got that photo of him, you, John Cornwell and Colin Murray in Great Yarmouth. It's always been on my wall.
Frank Haslam: Carol has just sent me that photo. They're all wearing pork pie hats and wearing sunglasses - I said, "Which bank were they going to rob?" [laughter]





John O'Toole (JROT), in Australia: Hello, everybody. I was there teaching English, supposedly, from 63 to 66. And although I wasn't there as long as you were, I think like most of you, I can say that Soham Grammar School made me. It was my first teaching job. I was wet behind the ears. I was poorly trained. I was learning on the job. And I hope I didn't intellectually cripple too many of you, particularly the faces that I can see in front of me that had the misfortune to be taught English by me.

I thought it was wonderful. I loved every minute of it. I thought the kids were terrific. I discovered that teaching was a great profession and a lovely thing to do. Teachers were friendly and supportive. I had the best mentor in the world with Gordon Hemmings.

Well, I should say I didn't quite love every minute of it. I had a few run-ins with RAT Taylor, [laughter] getting the afternoon off to play County hockey, which he thought was an unworthy game anyway, My word [Chorus of My word imitations]

I didn't make the hundred terms that was the the ambition of all teachers in those days. And I think when I left, probably it was your fault that I got a job about as far as possible, geographically and spiritually, away from Soham, just as a change. I taught in a comprehensive slum clearance school in Sunderland. I had 10 wonderful years in Tyneside. I got to love those kids too.

I just want to thank you, all of you who were there at Soham, and the whole ethos of your school, for teaching me so much more than I taught you. Thank you.

Christopher Dubas Pearce, in Saudi Arabia: Wearing a bandana, I'm a biker but my bikes are in the Philippines, one of my bases. I'm happily married there, two beautiful daughters doing well, top of the class - perhaps Soham Grammar had something to do with it, I don't know.


I lived in Witchford. Our house was a mile from the bus stop and I often used to just miss the bus. I had to hitch to Ely to pick up the the bus. My favourite car I used to wait for was a Wolseley 6/110. I became friends with the driver and we used to meet up once in a while. That was a really nice memory. At the school itself, I loved all the teachers, including Mr. Armitage, and his lovely wife who tried to teach me German. I often got the slipper, I got the cane, I was stood under the clock.


I think the running for the bus every day helped me. I was Victor Ludorum for two or three years. I always won the cross country with the likes of Nicky Bayes - Simon Thornhill will remember him. Graham Count was my rival over the 400 and 800.


I thoroughly enjoy my time at SGS. The only teacher who scared me was Mr. Hart, the French teacher, because of his eyes. He used to scare the life out of me. We used to call him Dalai Lama, if you remember.


I remember RAT very well - "My word, my word, there's a Cheshire Cat in the back." That's what he used to call me, I was always smiling for no reason.


I recognise some of your faces. Some of you were younger than me. I certainly remember Simon Thornhill. Steve Yeomans and I used to sit in class together, he was a good pal of mine. Say hello to him, Michael. A very good footballer, quite short but very speedy. I did Soham Grammar proud at the Athletics Championships.

Michael Yeomans on behalf of Eric Pearson (Canada): Eric wasn't able to join us today. He is living up in Kuujjuaq in the most northern Province of Canada. They had their first snowstorm last night and it apparently knocked out the internet. He phoned me late yesterday to send his apologies to everybody. He couldn't make it. He's really disappointed because he's never been able to attend this event before, being so remote.


Eric has spent all his life up in northern Canada. Firstly, he went on a Voluntary Service Overseas year to teach English and French, in Lapland of all places, it was in a religious mission. Then he joined the Hudson's Bay Company and worked with them in northern Canada for many years. Now he has his own store in Kuujjuaq. He's the main source of food and other supplies for the people up there.


Peter Scott, Maths 1960-72: Hello everyone. I was supposedly teaching Maths, from 1960. Still in Soham, sitting in my lounge where I can look out of the window at Beechurst 100 yards away. We have regular Zoom quizzes with the family and I must say I'm full of admiration for those who are doing it for the first time. It is good to see you all.


Roger Smith, in South Africa: What a wonderful experience - have heard lots about Zoom - my first attempt, and thanks to Frank for organising it - joined the Grammar School in 1956, the same year as Richard Dean, although we were in different forms - came from Ely, lived there for most of my life. A few years ago, I retired to live in Cape Town in South Africa. No amusing anecdotes, but when people ask what do I miss about the UK, well, apart from family and friends, it's a pint of English beer and a pork pie. Great to be with you.

Peter Smith: Year of 59 - brother of Brian Smith, who sends his very belated apologies - I used to live in Ely - now in Hereford, the cider capital of England - may not have excelled academically at Soham but I did have a love of English, for which I can thank JROT. And John, if it's any consolation, you weren't the only one to fall out with RAT Taylor [laughter]. Not great at sports, but I did manage to make the school Cross Country team. To my now amazement 56 years later, I'm still running cross country, so Chris is not the only runner. Thanks to the organisers, it's been great meeting you all.

Trevor Smith, in Thailand: 62 to 67 - I was the first year of 5th Remove, because I did so dismally in my O Levels - great to see Dave Beale and Tony Willenbruch, one of the SGS alumni along with Steven Melton who qualified for Oxbridge. I really enjoyed my time at school - didn't study very much - you might have seen my locks, hence the nickname Granny Smith.

Geoff Fernie - I believe, he was the prefect who caught me and my fellow smokers down at the bottom of the field in a break time and had us up before the Headmaster, we were all due to receive the cane for smoking at school.
Unknown: I think I was there [laughter].

Geoff: You have my apologies now. But I do hope you did stop smoking?
Trevor: No. But later I had to. You were actually quite zealous in your task at the time, I seem to recall,
Geoff: I was a terrible, terrible fascist at the time.
Trevor: Well you were a prefect!


Lovely to see you all - great job, Frank and John, getting us all together - I'm thoroughly enjoying it.

It's a bit sad that Eric Pearson couldn't join us. I'm 99% sure that Eric and I were the last of the Cambridge train boys. Eric was a couple years ahead of me so after he left, I continued going by train on my own. It ended up being just me and the one remaining Ely High School girl [Glenda Raeburn] travelling by train from Cambridge. By the time I was in my sixth year at Soham I had outgrown my travel sickness on long bus journeys and so went on the bus.

Brian Thorby: 1949-55 - one of my contemporaries was Roger Lane who many of you may remember used to do a lot towards the organising of the Dinner - sad that he is no longer with us - I came for many years with Tim Dickinson and Mike Goodchild, both sadly also no longer with us. After leaving school, I went into the construction industry for 46 years

My period at the school were great times. The teachers then compared with teachers now - entirely different. A number of them were obviously ex-Army like Slug Riley. And Anthony Charles Vincent Foster who was a Captain in the Army. When he was demobbed, he sold the pupils surplus tank aerials for fishing rods [laughter].

I don't recognise anybody from my year. The only person I know by sight is Donald Monk who used to live close to me when I lived in Ely, but now I'm in Fulbourn near Cambridge. I'm glad to have been able to join today's reunion and I wish you all the best for the rest of the year and for next year.

Simon Thornhill: Lovely to see this Zoom meeting working OK. Thank you for putting it on, Frank and John, very good.

I was at Soham between 1965 and 1972, which makes me part of the last full set of years that could have existed at Soham Grammar School, because it closed of course in 72. My family lived in Cambridge and I was a boarder at Soham, the only boarder at this year's reunion [in fact Chris Bull was also a Boarder].

I was at the boarding house with Mr. & Mrs. Armitage until I left in 1972. It was their home and they had about 14 or so boys stay there during the week. It was just Monday to Friday.

I also came by train. My Dad used to work on the railways and on Monday mornings would have gone to Norwich and I caught the Fenland train with him from Cambridge to Ely. Most times to get from Ely to Soham I'd just hitch a lift on passing a sugar beet lorry or something that was stopped at the level crossing at Ely Station. It seems remarkable now that children were allowed to do that from age 11 upwards.

I thoroughly enjoyed my time at school - got involved with a lot of things. Being a boarder, I had quite a lot of spare time and was able to do stage lighting. [see anecdotes]

I ran the school vending machine, a Ditchburn Magispa, if anyone remembers that. I used to take it to pieces every week and take it home and wash it out in the kitchen sink, things that schoolboys probably would not dream of doing these days.

I became an electrical engineer with Eastern Electricity, where I worked for 46 years until I recently retired. This is first Reunion I haven't physically been to in all the time since I've left school, apart from 1987 during the Great Hurricane when I was out at work every day for ages because it was at this time of year.

John Dimmock: I'll get this gentleman's name correct - now it's Bernard Walton-Knight please.

Piet Walton-Knight: Strictly speaking it's Piet, but anyway ... [laughter]. I was at Soham from 1952 to 59. I was brought up in Witcham, I now live in South Derbyshire, just up from Burton on Trent. I spent my whole career in aerospace, starting with an apprenticeship at Rolls Royce, and then ended up with Dunlop Aerospace in Coventry. My big enthusiasm through my whole career was flying, gliding particularly and powered aerobatics. I judged all my landings to be good ones simply on the basis that on every occasion the aircraft could be used again [laughter].

Michael Whymer: First reunion I've been to so it's great to see lots of faces, particularly good to see Piet. It's been an awful long time. We'll have to get in contact. I was with Piet in the year of 52. Lived in Soham at that time, then moved all of 11 miles to Stetchworth, just South of Newmarket where I still am.

Tony Willenbruch: I was at Soham from 1962 to 1970. Living also, like Piet Walton-Knight in the city of Witcham, he was two doors down from us, and also not far from the late lamented Charlie Maschke, who lived in the village as well. And the connection there was that Charlie's mother and my mother, who came from that area, were both at Ely High School together in the earlier part of the 20th century.

I left Witcham when I went off to college. Having joined the Air Force while I was at college I've lived all over the place and as John Hill mentioned he spent a lot of time in Catterick, I think I spent rather too much time in Lincolnshire. I've lived in Scotland and Wales and Saudi Arabia, and quite a bit in Germany. For the last 40 years I had a home in Kingston on Thames, it was convenient for working in the Defence Ministry in London, and it suited me well enough in retirement.

I have been followed, in a way, through life, by Peter Scott. Well, not Peter Scott exactly but Peter Scott's twin brother. I was at Sidney Sussex in Cambridge and my Director of Studies was Dr. Paul Scott. I've been involved with their Alumni Society for many years, I'm the chairman. I see Peter's brother, Paul, whenever I'm in college, and it's always a nice reminder of my time at Soham.

Michael Yeomans: I was born in Soham but moved to Ely at the age of five. I attended the Grammar School from 1960 to 67. I made a career in the pharmaceutical industry that took me into research in the UK, but then to Germany, where I lived for around 15 years. And then about the last 25 years I've been here in New Jersey in the US, about 30 miles west of New York City. The state is also called 'the medicine cabinet of the world' for good reason, because it's where many of the major pharmaceutical companies are headquartered.

I'm very happy to be part of this. It's not so easy, living abroad, to attend these reunions. I think I made it only one time, in 2012 I think it was, Frank, when it was the 40th anniversary of the closing of Soham Grammar School. So I wanted to take advantage of this today.

I'm very happy, delighted, to see John O'Toole here. I very much appreciated your English classes, whatever you may have thought, they really opened my eyes to English Literature and I thank you for that.

Peter Scott, the other teacher who's on this call today - thank you for helping me struggle through calculus, which proved invaluable in my later career.

Funny anecdote? Well, I don't know how many of you have looked on our website at the old movies taken by Lionel Hart on his cine camera. I think Frank brought my attention to this. You can look and see all these old recordings. There's no sound but they show sports activities, some school play activities, and there's a particularly interesting piece for me, which is a recording of the Toy Symphony by Haydn, with Michael Ades. Me playing the trumpet and various other boys playing percussion instruments, including Geoff Fernie playing this warbling instrument called the Nightingale. I don't know if you remember this, Geoff.

Geoff Fernie: Oh, I do, I was so incompetent. I had to go Cuckoo, Cuckoo. And I had to count 1500 bars before I did it or something [laughter]. And that was it. It was a frightening experience, to do it at the wrong time.

Michael: Anyway, for those of you who haven't taken a look at that, I think it's well worth it. So thank you, and delighted to be here with everybody.





Absent Friends

John Dimmock: I'm going to read out the names of the people who have passed away during the 12 months since our 2019 reunion, and also those who passed away in earlier years but we've only just been made aware of that fact. Make sure you've got your glass filled.

I will now read out the names and the year that they joined the school:



Clive Bray 1950
Michael Baldwin 1958
Michael Bunting 1953
John Butcher 1947
Aubrey F Butler 1948
Terry Day MBE 1957
Michael Delanoy MBE 1948
Rodney Fretwell 1942
Michael Goodchild 1951
Kenneth Holliday 1939
Greg Holt 1968
Ed Kisby 1967
Russell Lane 1946
Michael Morton '1954'
Mrs Mary Gorman, Maths WW2
Ken Purchase 1952
Cyril Prior 1944
Bill Rennison, History 1961 to 67.
Chris Sangster 1963
Eric Simper 1951
Denis Sindall 1940
Peter Stonebridge 1950
Trevor William Smith 1961
Chris Strawson 1944


Well, it's a long list. And it's very sad, of course.

I ask you to raise your glasses, and remember those people who are no longer with us. "Absent Friends."

Thank you. Over to Frank.

Frank Haslam: This year is the 75th anniversary of V-E Day, and also V-J Day. There are two people that I would like you particularly to remember:



Fred Hockley [1934 entry] Fleet Air Arm, died on the 15th of August 1945, which is V-J Day. He was shot down over Tokyo Bay.

Duncan Wright [1932 entry] Glider Pilot, 6th June 1944, which was D Day. He was the uncle of Ralph Dunham in my year, who we had hoped would be here but is travelling at the moment.


And we should of course remember all those other Grammarians who did not come home from World War Two.

But these two names I draw to your attention especially, because both were victims of a War Crime.

Fred was shot down over Japan on what became V-J Day. He was well looked after, the villagers took him to an Army Post, gave him some cigarettes and so on. The Army Post reported up the chain. "What do we do with him?"

They had by this time heard the Emperor's radio broadcast saying that the war was over for Japan.

The Army Command said to take him up into the hills and get rid of him.

Look at the website for Fred's story and you will see how all of this eventually came out.

Duncan Wright, Glider Pilot, captured, executed.

[Editor: I did not quite have the story straight at the Reunion so what follows is now correct]

We have Bill Kelly SG55 with us. Within the last few days we've made the connection between Bill's father and Ralph's uncle. Both had been captured, separately, on D Day. They were held together with several others in the grounds of a chateau where a Frenchman saw them, unarmed. At 8 am that morning a German officer said they had all been shot for carrying concealed arms.

Bill has researched his father's case in great detail and was amazed to find the connection with Soham Grammar School

I have brought Bill and Ralph together and they have spent some time talking to each other. Moreover, Bill was a pupil at Ely Silver Street and his family were shown great kindness by Soham Grammarian Ken Holt, the headmaster there, when Bill contracted polio.

I think that's an amazing set of coincidences. If you want an example of the value of having a website, I think that's a wonderful yet very sad one.

So that's why I want you to remember those two names. If you go on our website, you will see much more information when I update Duncan Wright's story with Bill's help.

Some of you may remember that there was a Hockley Prize (for Drama) that was given in memory of Fred (by Mr Cecil Crouch).

Back to you, John


News from our Guest of Honour

John Dimmock: Now we're going to ask Dr. Taylor to give us news and updates on what's happening at the College and how you are managing this dreadful virus. Over to you Carin:


Dr Carin Taylor: Good afternoon, everybody.

I've attended all of the Grammarian Reunions since coming into post in 2006. And normally, of course, we'd be sat in Beechurst, being served by senior students in our current Year 11.

Sara, our Caterer, wishes to pass on her very best wishes to you all. She was very sad that we couldn't have the event this year, but she wants to be part of it, I wasn't even sure whether she might try and join. But she did want to pass on her best wishes.

You're very much part of our Autumn at the Village College.

Dr Carin Taylor


Carin: A photo I took at home to mark the event. It is a pandemic memory for all of us.
I think when you reflect on the last year, there won't be anybody that doesn't have a story to tell. I'm guessing for each of you, that there are individual stories which are really significant from the last six months, nine months.

Complications that we couldn't have imagined. And also opportunities, perhaps like having a Zoom Reunion, which of course brings in people that wouldn't be able to travel to Beechurst, so there are some silver linings, perhaps, to the situation that we're in.

For the school, the Village College, I can assure you, as is my role at this event, I believe, that we are all safe and well: the school is coping very well and the community's coping very well. East Cambridgeshire has not been badly affected; we're very fortunate that the relative disruption that we've experienced is nothing compared to other parts.

Our schools closed on the 20th of March, at relatively short notice. I think with hindsight, the week before that was obviously a very big deal. But I don't think we realised at that point that we wouldn't be welcoming back our students, for the majority of them, until September, I think we probably thought we might be back a little bit after Easter, or maybe June. Of course, as it was, we were pretty well closed until September.

Throughout Lockdown all of our schools remained open to vulnerable children, to disadvantaged children, to children with special educational needs, and to children of Care Workers - so we were always in operation. The school was actually open on Good Friday, we were open on Easter Monday, all through the school holidays, there was a skeleton staff in each of our schools. And we were welcoming a minimum of around 10 young people who really did need the security and support of school. In our primary schools, the numbers were even higher, because obviously there were childcare concerns for parents.

None of our students who finished college sat their exams at the end of the year. We were really pleased that our central assessment grades did fairly reflect how well those students did. And the vast majority of them have gone on at age 16 to do the studying, or further training that they would have wanted to do, so that they are safely on their way to the next phase of their life.

Of course, the huge upheaval was that we had to almost reinvent the whole school system at very, very short notice. And the scope and the speed of it was phenomenal. We had to rewrite virtually every policy that we've got, we had to risk assess absolutely everything we were doing. And even now our risk assessments run to about 200 pages, because the reopening has obviously been massively complex this September.

And for our teachers and for our subject leaders, they've had to completely redesign how they teach. We weren't awash with ICT equipment. A number of our families don't have good internet access. They don't have electronic devices. Or maybe they have one in a family which has got three children and parents were at home trying to manage learning. So certainly some learning was going home hard-copy. Teachers had to learn how to work differently because most of us had never foreseen these circumstances.

And we had to kind of learn a whole lot of new technology in order to find ways of communicating with young people.

So there was a real redesign of teaching and learning and of some of that, I can say, there will be a legacy. I think we will look in the future at the way which we teach and the way we make learning accessible to children. I think things like old fashioned homework might well now be re-invented and that we will set home learning in a very different way, now we understand so much more about how home learning might work best.

So in the middle of all of that we were delivering relatively good quality learning for as many students as would be able to access that at home. We were supplying ICT equipment to those who were disadvantaged and didn't have access to anything digital.
We were also responsible for 20% of our students receiving free school meals or access to free school meals. And so there was a very slow process of getting a system set up, getting vouchers delivered to families. Remember, not all of these families have got email addresses: how do you actually get those vouchers to them? And in some cases, we were actually having to deliver food parcels, hampers of food, to families where they were not even able to use vouchers or to access them.

So all of that that landed as a responsibility on us leading in schools. Obviously Child Protection, Safeguarding, checking in with students, where we weren't really sure how they were thriving, whether they were thriving.
So number one was, are they thriving? Number two is are they learning?
For some of them just thriving was the key concern. Learning can be caught up later.

I hope I have given some sort of context of what a very difficult period of time that was. Obviously, now, the schools are reopened, in September. And we've got all of the children back in, the vast majority, with very high attendance - in the mid 90s.

We have had two positive cases at the Village College, which has led to small numbers of children having to isolate. But apart from managing that as a process, it's been relatively smooth and school feels normal in lots of ways, and we have lots of really good teaching and learning happening.

Just to conclude, at this time of year we always end up reporting on last year, and I've actually found it quite an emotional experience this year, I haven't found it all that easy.
When I was looking back at the strategic priorities that we'd set ourselves in January 2020 and you look back and see what we've actually achieved, it's quite extraordinary. We've fulfilled many of the things that we set out to do, but by a whole means that we couldn't possibly have imagined.
So things that we've set ourselves to do, like really improve stakeholder engagement or parental engagement, well, no one would have written the script for how we ended up doing it. But there's no doubt that through weekly phone calls and communication with parents that were struggling, we have actually really strengthened our communication and our relationships within the community and with our parents.
Multi-agency meetings - sometimes we've got to get everyone around the table, but of course electronically, it's much easier. All of our governance meetings have gone on to Microsoft Teams. We get very good attendance. We've learned how to get quite good at high quality meetings and high quality governance, even though everything that we've done has been virtual.

So we're still on a very steep learning curve. It has been quite relentless. The lesson in resilience and strength of our team and our people and our relationships really carried us through.
We've all had our ups and our downs, but I'm really very proud of where we are.
I'll just end with that.
John Dimmock: Thank you very much indeed, Carin. That was much appreciated - difficult times - but it looks as if the school has handled it well. Well done, Soham Village College obviously following in the footsteps of Soham Grammar School [laughter].
We then had the talk Some Funny Goings On at Soham Grammar School presented by Frank Haslam
(see it via the link at the foot of this page).

John Dimmock: Frank, that was really interesting. And I think it brought a lot of chuckles in the background while you were speaking. Thanks for doing all that.
John: Well, thank you, everybody. Today has been a new experience for I think most of us. I know Zooming is the 'in thing', but not something we do every day of the week.

But I think the first thing to say is, thanks to Frank, because without his hard work, without his contacts, it wouldn't have happened. And he has put in hours of hard work to set this Reunion up.

And of course, thanks to all of you. Some had to leave. But to those still with us, thanks for joining us. The important thing is to keep up good hope that next year, we will be back in our beloved Beechurst. I hope as many of you who can will join us.
As we saw, there were an awful lot of Absent Friends. So we do need to more to come and join us and keep this event going, hopefully not a virtual one next year. Dr. Carin Taylor's parting message in Chat was "I hope to see you all in Beechurst next year." So she's behind us. And I think all that we've heard today, make it worthwhile keeping going. So thank you very much.
Screenshots
At some point Frank wanted to take some photos - not of course as usual when going around the tables in the Beechurst Hall - but by taking 'screenshots' of the on-screen mosaic of little images of participants familiar to Zoom users and those who have seen its use on TV. We hoped that this would be the only occasion on which we need to have a reunion via Zoom, so it was a bit historic.
By the time he remembered, it was about ten minutes before the end of the meeting - should have taken them earlier before some people had to leave. But here they are as a memento of the occasion. Some people appear in both: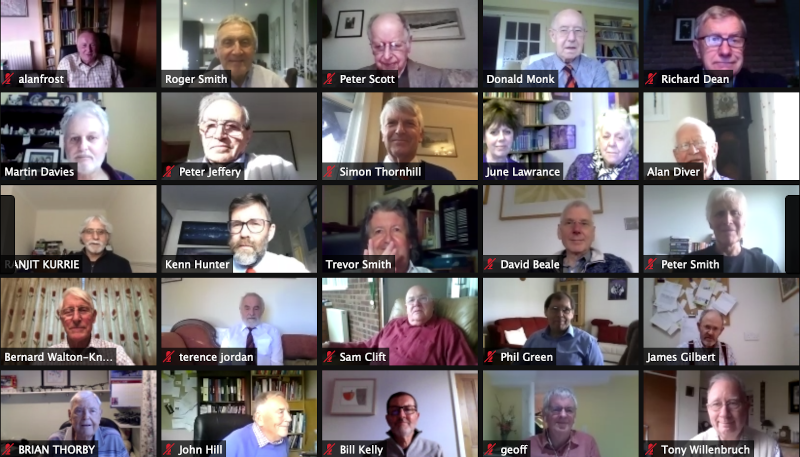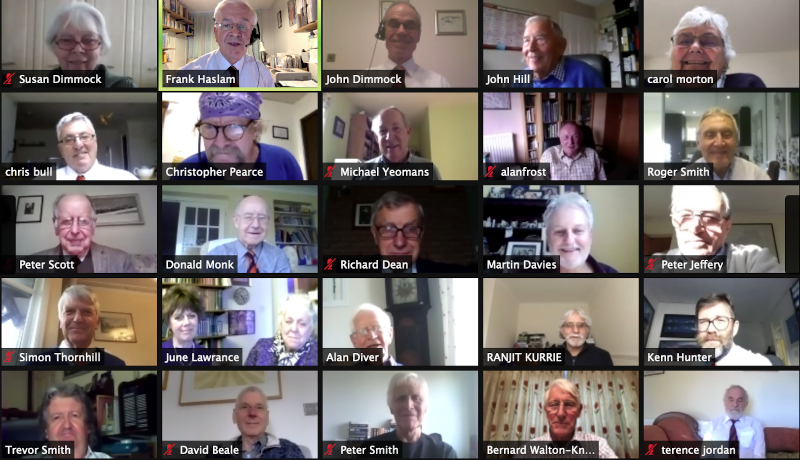 A final word from Frank

Some have said they would like to be in touch with other people. If you email me with who you'd like to be put in touch with, I will facilitate that.

Secondly, the number of visits on the website has been piling up. People have obviously been looking at it. There's a great aerial view of the Village College and within that the Grammar School footprint, it's well worth looking at that.

And if you know friends from your SGS days who we're not in touch with, please encourage them to make contact. It's very important that we find these people and that we get more stories coming in.

Thank you all for taking the trouble to bear with Zoom and take part. I don't know what happened to those who registered but didn't show up, there are usually good reasons [as indeed there were when we followed up]. It's been great to have your company. Thank you very much indeed. And thank you, I must say, to John and Sue for helping to make it all happen.

Cheers, and have a good rest of the weekend.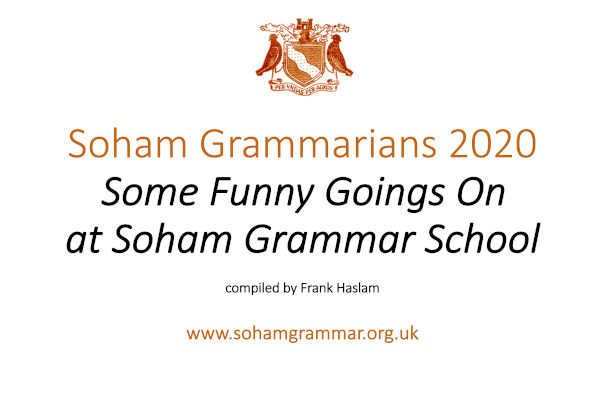 Please click the image for the Talk


As people joined from 2pm to 2.30pm ready for this Reunion meeting on Zoom the Editor thinks he mentioned that the previous day had been Peter Nicholls SG39's 92nd birthday. He regrets that he did not remember later on to give us all the opportunity to wish Peter Happy Birthday. Peter is usually with us in Beechurst but is not online so could not join us this year. We hope you had a Happy Birthday, Peter.


---
images: Frank Haslam
page updated 8 Nov 20 If you have additional commentary, please contact the editor