Soham Grammarians
Professor Peter John Deasley, FREng, MA, BSc, PhD, CEng, FIET
1943-2017, SG54
Professor Peter Deasley SG54

Peter died on Thursday 9th November. He was often at our reunions. He had been unwell for over a year but by the time the cause - Myelodysplastic Syndrome - was finally diagnosed he was too unwell for a bone marrow transplant and chemotherapy.
His first wife died and Peter married again with the hope of many years together after both had experienced the death of spouses from very debilitating illnesses.
His funeral was at All Saints Church, Church Hill, Stretton on Dunsmore, Rugby on Thursday 23rd November, and afterwards at Bourton, Draycote and Frankton Village Hall.
Here are some memories of Peter:
Malcolm Coe: A Character with a dry wit and cynical sense of humour as well as an OG 'Scholar'.

Chris Bull: He was a cheerful companion and always fun to be with.Never vain but consistently modest.Lovely memories.

Trevor Lee: Peter was a classmate whom I remember well. Sad news after his illustrious career and search for shared solace with his second wife Vicki.

Chris Bent: Peter was always keen to revisit our years as Grammarians; I remember him well but had no idea that he had enjoyed such an illustrious career.

Rod Armitage: Pete was a great guy.At the boarding house I recall playing cricket with him, unless my memory is playing up. Wasn't he one of the funeral party that buried Mr Taylor's kit .... Frost and Deasley?

Denis Wilkins: Always a better mind than the rest of us, I recall. RIP

Alan Frost (see photo): I knew that Pete had had a distinguished career but the information you provided filled in a lot of details I was unaware of.

John Cornwell (see photo): Pete had a great skill at imitating teachers. I also remember him taking Alan Frost and myself around the Newmarket coffee bars. I think The Black Cat was one.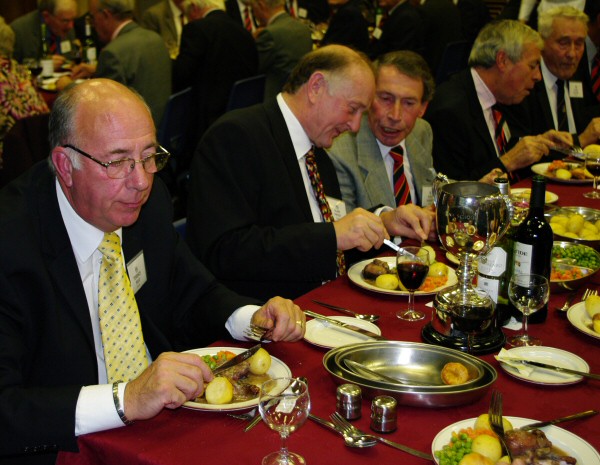 At the 2010 Reunion: Terry Rule 55 - Alan Frost 54 - Peter Deasley 54 - John Cornwell 54 - Colin Fuller 51
Here is an appreciation by Peter Bird and Ray Bolton, a small part of which appeared in the Newmarket Journal on 21st December 2017:



Peter passed away peacefully on 9th November 2017 after a long illness.

Born in Newmarket, Peter's family ran the Grocers Store in Old Station Road. He attended All Saints Primary School and Soham Grammar School. Academic success led him to Jesus College Cambridge and Nottingham University where he gained degrees in Electrical Engineering. After a research post at Jesus College he joined PA Technology, working in Germany, Switzerland and Belgium, becoming fluent in German and French. Languages he enjoyed using both at work and socially.

While working in Belgium he met Irene and they married in 1985. Shortly after they moved back to England to live in Stretton-on-Dunsmore near Rugby, close to General
Motors where Irene was employed and to Cambridge Controls at Bourton Hall where Peter rose to become Managing Director.

In 1993 Peter became Professor of Mechatronics and Director of the Cranfield Innovative Manufacturing Research Centre. Since then he served as Chairman of the Manufacturing Division of The Institution of Electrical Engineers, was a founder member of the Cranfield branch of The Royal Aeronautical Society and a Regional Councillor of The CBI. He also served on numerous government committees for research and development [ed: mechatronics: "approach aiming at the synergistic integration of mechanics, electronics, control theory, and computer science within product design and manufacturing, in order to improve and/or optimize its functionality."].

Peter was elected a Fellow of the Royal Academy of Engineering in 1997 and chaired their working group on Systems Engineering, actively promoting the participation of Industrial Visiting Professors in Universities as part of the Academy's Industry-Academia Programmes.

On retiring from Cranfield in 2005 he was elected an Emeritus Professor of the University. He retained his interest in research and continued with Academy committee work and mentoring a PhD student until his illness in May 2016.

Peter retained a close attachment to Newmarket and to his relatives and friends in the area and he regularly attended reunions of the Soham Grammarians. At School he had been a keen sportsman, enjoying cricket and tennis. He enjoyed golf and was a member of Newmarket Golf club for many years.

He loved Stretton, supporting village activities, joining the choir and it's History Society and became heavily involved in the Friends of Montbelliard exchanges started and developed by Irene. Peter was devastated when Irene became terminally ill and grateful for the help and friendship of his community in Stretton, helping him come to terms with her early death.

Vicky, a close friend of Peter and Irene had lost her husband Peter Lundberg a year earlier. Through their mutual support they found solace and happiness together, marrying in 2008.

Sadly Peter became ill in May 2016 with myeloma. As a devout member of the Church community at Stretton his deep faith enabled him to face his illness with hope and fortitude. His characteristic gentleness and dignity throughout his illness was an inspiration.

He will be greatly missed.


Here is a chronology of his remarkable school career:



1955 Speech Day: Divinity Prizes (given by Canon PF Boughey): Special Merit: PJ Deasley

He was in the 1

957 Cricket U14 First team

1956 Form Prize 1S 2nd

1957 Form Prize IIP 2nd

1958 Speech Day Form Prize IIIL 1st

1959 Form Prize 1st IVL

The

Cricket Box Incident

is something once read, never forgotten -

Edward Armitage included it in detail

in his memories of his headship (scroll down that page for the

Frost Report

).

1960 Speech Day: Prizes awarded on the General Certificate Examination, Ordinary Level: PJ Deasley (8 subjects)

1960-61 Prefect

Cricket 2nd XI June 15th 1960, at Newmarket. Match drawn. School 67-7 dec. (Folks 23), Newmarket GS 48-9 (Allan 5-19, Deasley 4-13)

Twelfth Night December 1960

ANTONIO a sea captain, friend to Sebastian PJ Deasley

1961 Speech Day: English Speaking Prize - Senior: PJ Deasley; Parents'Association Prize: PJ Deasley

1962 Speech Day: County Major Scholarship: Suffolk PJ Deasley
Prize awarded on the General Certificate Examination, Advanced Level: PJ Deasley
Physics Prize: PJ Deasley
Chemistry Prize: PJ Deasley

Peter very kindly represented the Soham Grammarians at Mr Ted Quinn's funeral in Coventry on 7th October 2010.



---

If you can add further memories of Peter or provide photos of him, please contact the editor.


page created 5 Jan 2018: last updated 25 Feb 18