Soham Grammarians - Roger Stewart Lane 1938-2009
ROGER STEWART LANE DIED 24TH MAY 2009, AGED 70

A funeral is a time for reflection and memories, a time to look back over the years that we have known Roger. We all knew Roger in different ways and have our own memories of him. The way in which he came into our own lives or us into his, the way his life touched yours and the times you spent together. It is right and proper that we mourn his loss today. But we must also give thanks for and celebrate of his life.

Reading: Grenfell
Hymn: Onward Christian Soldiers
Reading: Ecclesiastes Chapter 3
Tribute by Reg Brown
Prayers,
Hymn: O Lord My God
Committal

You will all have your memories of Roger and the way in which he touched your lives. A man whose life was well lived and lived well. Keep these memories in your hearts and minds. For those who wish to make a donation in his memory there is a plate as we leave the chapel and all donations will be forwarded for the work of The Behavioural Neurology Research Fund.

You are all invited to Ross Peers Sports Centre in Soham after this service for light refreshments. Please go if at all possible to continue the fellowship we have shared here this afternoon and to share your memories of Roger with one another. I am sure that there are many stories to be told and retold.


Roger Lane
Roger Stewart Lane 1938-2009: unpublished obituary

Roger Lane, who has died aged 70 from a long and debilitating illness, liked to be busy. After National Service in the RAF at Oswestry as a Drill Instructor and a short spell with The Inland Revenue in Ely, most of his working life was spent with CJR Fyson and Sons Ltd with which he travelled extensively. He was an active member of the local community and at various times was involved with The College Players, Cub and Scout gang shows, Soham Carnival Committee as well as local cricket and football teams.

For more than 25 years, from the early 1970s Roger was associated with youth work. Firstly, running church hall discos and youth clubs before moving on to the 14-18 Project at the Lode Centre. At points during his life he was a member of Ely and District Round Table, a school governor, a Town Councillor and, for many years organised the annual Grammar School Old Boys Dinner. He was involved in Soham Sports Hall from inception to completion and served on the committee for 21 years.

In his spare time Roger loved his garden, was a keen photographer, a doting granddad and enjoyed cruising along the waterways of East Anglia with Anne and the dogs in their canal boat.

He is survived by wife Anne, sons Philip, Mark and Jeremy and grand-daughters Martha and Billie.

May he rest in peace.

Beth Lane wrote: The memorial cards from the Soham Grammarians were given to the family and we asked the Grammarians to sign one of them. Brian tells me that Roger's son Philip who is in the photo helping to hold the memorial card is in fact the last Lane who attended Soham Grammar School.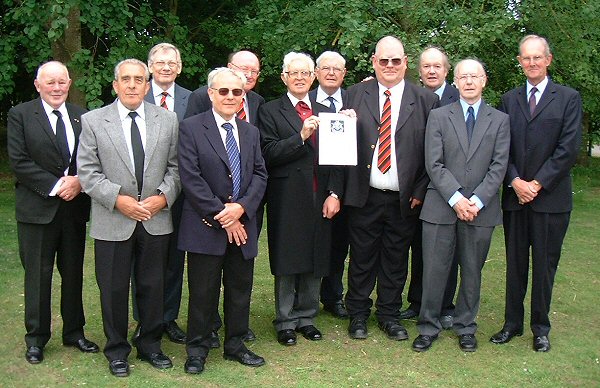 L-R: Bill Hawes - John Driver - Clive Bray - Tom Crawford - Tim Dickinson - Reg Brown, holding our Memorial Card
Brian Thorby - Philip Lane - Brian Lane - Donald Monk - Owen Barber.
Photo via Donald Monk.
---
Roger came to Soham Grammar School in 1949 and was in Form IIA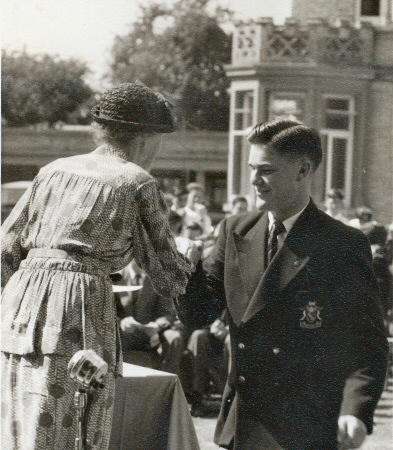 Roger receiving a prize: source Anne Lane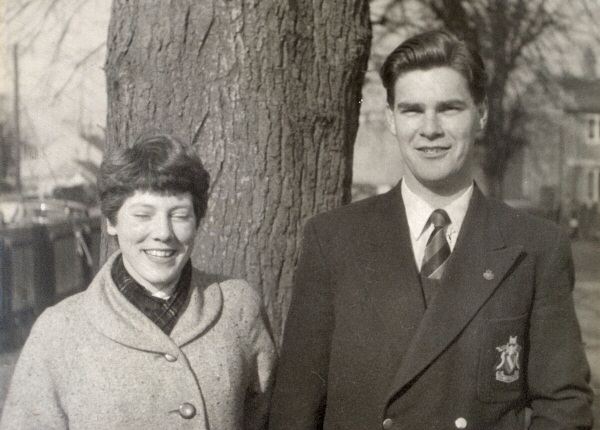 Anne aged 16 and Roger aged 17 taken in Ely by Brian Lane: source Anne Lane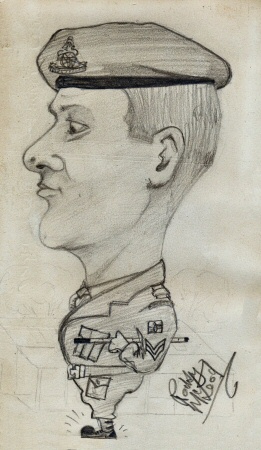 Drill Instructor, RAF Oswestry
- he served with the Royal Artillery, note cap badge.
via Anne Lane
They were married at St Andrew's Parish Church Soham on 19 July 1958 - Miss Anne Christine Pettit, only daughter of Mr & Mrs AR Pettit of Sand St Soham and Mr Roger Stewart Lane, son of Mr & Mrs A Lane of Lynton Drive, Ely.

Canon H Hallidie Smith conducted the fully choral service and the Organist was Mr Dennis Pratt.

Miss Ann Margaret Ford was the bride's attendant. The Best Man was the bridegroom's brother, Mr Rex Martin Lane.

The Bride was on the staff of Ward B2, Newmarket General Hospital. The Bridegroom was a Drill Instructor at RAF Oswestry.


via Anne Lane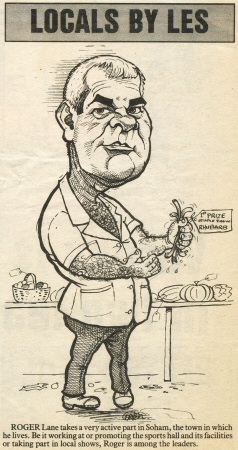 Roger Lane takes a very active part
in Soham, the town in which he lives.
via Anne Lane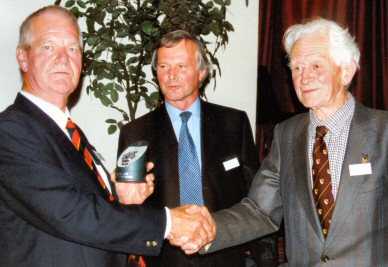 2003 Dinner - the last he attended - Roger receives
a watch from Arnold Tomalin (R) with Chris Bent (1953) looking on
image: Haslam
---
Please also see these pages:
---
If you have further appreciations or photos to add to this page on Roger, please contact the website editor.
page last updated 4 Oct 2009